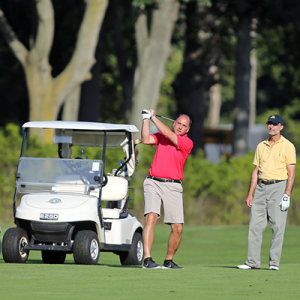 This annual fundraising event attracted more than 150 alumni, trustees, staff, community members, vendors and corporations.
This year, on the occasion of the 10th Anniversary in our new athletic complex, we celebrated the achievements of our athletics department and honored our deserving scholar-athletes by establishing the Adelphi University Athletic Scholarship endowment. The University has agreed to match dollar for dollar the net proceeds raised, which so far totals more than $36,000.
Beginning in fall 2018, a student recipient will be chosen annually and invited to attend the Golf Classic as our guest.
We are proud to share the beauty of our facilities and the accomplishments of our student-athletes with you through the videos below.