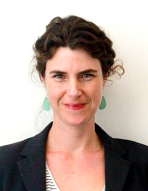 Adelphi University is proud to announce that Christy Denckla, Ph.D.'14 has been elected president of the Society for Personality Assessment Graduate Student Association (SPAGS). Denckla, originally from Anahim Lake, British Columbia, will serve a two year term as president and hold additional responsibilities as past president once her term ends. As president, Christy Denckla will assume leadership of a key constituency within the world's most influential professional association devoted to advancing and implementing psychological assessment in clinical and forensic settings. 
The Society for Personality Assessment Graduate Student Association is a part of the national organization Society for Personality Assessment (SPA); it advocates for student issues and concerns, organizes events at the annual SPA meeting, and promotes and provides recognition for quality student assessment research efforts. Additionally, the SPAGS president sits on the SPA Board of Trustees. Dr. Robert Bornstein, an Adelphi professor and former member of the SPA Board of Trustees, says, "In my experience on the SPA Board, the SPAGS President has a significant impact on SPA policy in a broad range of areas.  It's a very influential position… It's also worth noting that every recent past-president of SPAGS has gone on to a successful academic career." Dr. Bornstein is proud of Denckla's success and says her presidency will bring recognition to the Derner Institute of Advanced Psychological Studies at Adelphi. 
Denckla is a student who has repeatedly proven her leadership qualities. Not only is she the head of the Student Action Committee for the Derner Institute Doctoral Program, she has also submitted a National Research Service Award grant proposal to the National Institute of Aging (NIA). Additionally, she is a member of the Psi Chi International Honor Society in Psychology and a Teaching Fellow for the Psychology Undergraduate Department. As the future president of SPAGS, she has numerous goals: SPAGS to work in active partnership with the Proficiency Committee's efforts to establish Personality Assessment standards for the American Psychological Association; facilitate the exchange of ideas between graduate students and members of SPA by increasing our existing online presence to generate a thriving resource for training opportunities, research support, and internship/postdoc/externship information; support students by promoting reliable and valid means of psychological assessment by maintaining contact between SPAGS and our graduate training institutions; and serve as a consultant to those who take initiative to organize workshops, colloquiums, and guest speakers.
Find more information about Adelphi University and the Derner Institute of Advanced Psychological Studies.
Learn more about the Society for Personality Assessment Graduate Student Association.
About Adelphi: A modern metropolitan university with a personalized approach to higher learning.
Adelphi University is a highly awarded, nationally ranked, powerfully connected doctoral research university offering exceptional liberal arts and sciences programs and professional training with particular strength in its Core Four—Arts and Humanities, STEM and Social Sciences, the Business and Education Professions, and Health and Wellness. Adelphi is dedicated to transforming students' lives through small classes, hands-on learning and innovative ways to support student success.
Founded in Brooklyn in 1896, Adelphi is Long Island's oldest private coeducational university. Today Adelphi serves nearly 8,000 students at its beautiful main campus in Garden City, New York—just 23 miles from New York City's cultural and internship opportunities—and at dynamic learning hubs in Manhattan, the Hudson Valley and Suffolk County, and online.
More than 100,000 Adelphi graduates have gained the skills to thrive professionally as active, caring citizens, making their mark on the University, their communities and the world.