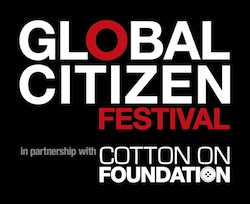 Adelphi University alumnus, music icon, Public Enemy founder and Rock and Roll Hall of Famer Carlton Douglas Ridenhour (aka Chuck D., 1984), said it best at this year's Adelphi University Commencement "…Culture at its best and most purposeful, brings human beings together in a unique, special shared moment while knocking the differences away. That's what music does at its best."  
Bringing "human beings together in a unique, special shared moment…that's what music does at its best" is what Adelphi University and the Global Poverty Project aim to do at the 2013 Global Citizen Festival. Adelphi University has partnered with the Global Poverty Project to raise awareness of global issues such as ending poverty and hunger, increasing accessible education and promoting environmental sustainability–all initiatives that the University has been spearheading for several years.
Adelphi is at the forefront of educating the next generation of global leaders with a commitment to social responsibility and justice, civic participation, community engagement, global awareness and global activism. 
The Global Citizen Festival is Saturday, September 28 in the Great Lawn of Central Park– just 23 miles from the Garden City campus. It will feature musical performances by Stevie Wonder, Kings of Leon, Alicia Keys and John Mayer. Audience tickets cannot be bought but rather earned by taking action on social issues.
For more information about the Global Citizen Festival and Adelphi University partnership, please visit globalcitizen.org/adelphi.