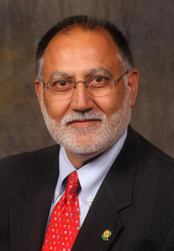 Rakesh Gupta, former dean of the Robert B. Willumstad School of Business at Adelphi University, will give a lecture entitled, "India: Rooted in the Past, Present, and Future-Simultaneously" for the Garden City Community Club. The speech will consist of what he learned as he travelled India for three months during his sabbatical last semester. He will discuss the palpable excitement and seeming contradictions in India through photographs as well as economic and demographic data. The event will take place on Wednesday, April 3, 2013, at 1:30 p.m. at the Garden City Casino, 51 Cathedral Ave, Garden City, NY. Refreshments will be served. Guest are most welcome for a $5 fee at the door.
Professor Gupta is an expert on strategic management, with special interests in business ethics, management of technology, financial literacy, and action learning. He has more than 15 years of higher education administration experience and 40 years of teaching at Adelphi University, LIU Post College, and Baruch College. He has been nominated by students to Who's Who among America's Teachers. 
The Robert B. Willumstad School of Business is focused on developing ethical, effective leaders in the industry. The professors are industry leaders themselves, and understand that the classroom experience is only the beginning. The school offers real-world connections and opportunities through corporate internships and mentorships—opportunities that can change a student's life both personally and professionally. 
To learn more about the Garden City Community Club, its vast array of interesting and informative programs, trips and fine arts classes, and how you can become a member, please call the office at (516) 746-0488, on Tuesday, Wednesday, and Thursday between the hours of 9:30 a.m. and 12:30 p.m. 
To learn more about the Adelphi University Robert B. Willumstad School of Business, visit business.adelphi.edu.