Adelphi Exhibitions gives a behind-the-scenes look at the fresh round of sculptures to be found amongst the natural riches of our beautiful campus. The Adelphi community is invited to join us for an opening reception on Saturday, September 17, at 1:00 p.m.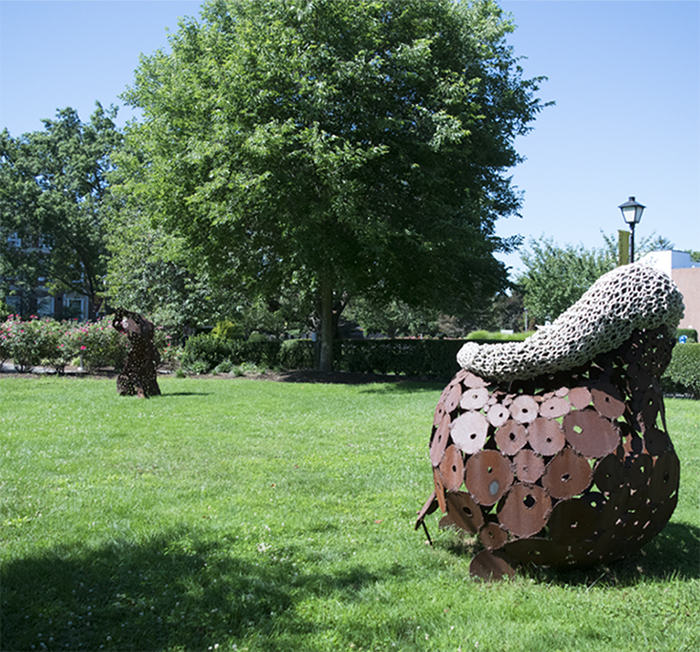 Every two years, the Adelphi University Exhibitions Program introduces a carefully curated selection of sculptures to be displayed across campus. Many are created by Adelphi alumni, and some—like the iconic Giant Disco Man by Anti Liu—become key fixtures beyond the initial invitation.
Upcycling and sustainability are recurring themes in the 2016–2018 Biennial, where most of the works are made from recycled or reclaimed materials. Through the changing seasons, these impressive large outdoor constructions will communicate and age with the environment.
In addition to scouting for sculptures outside, you can get a behind-the-scenes look at the creation of these pieces at Biennial Highlights in the University Center gallery. This exhibition showcases sketches, scale mock-ups, preliminary notes and photographs of the works in different locations.
The entire Adelphi community is invited to a free opening reception on Saturday, September 17, 2016, from 1:00 p.m.–3:00 p.m. The reception will start in the Ruth S. Harley University Center lobby and will continue on to a walking tour of the sculptures, beginning at 2:00 p.m. Refreshments will be served.
Biennial Highlights is on display now through September 25, 2016.
The Outdoor Sculpture Biennial is up now until May 31, 2018.