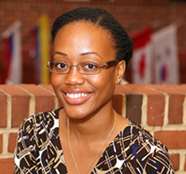 Chantal Hamlin graduated magna cum laude from Adelphi in 2007 with a major in political science. She is currently the Interim Executive Director of Brooklyn Jubilee. Brooklyn Jubilee is a Brooklyn non-profit that works to restore com-munities by providing access to integrated legal, health, and nutrition services for low-income Brooklyn residents through community partnerships. In addi-tion to her role as director, Chantal provides legal services through various legal help desks with Brooklyn Jubilee. Chantal's practice is focused on land-lord/tenant matters, public benefits matters, and Sandy-related disaster mat-ters (including homeowners and flood insurance matters). 
Chantal is a graduate of Benjamin N. Cardozo School of Law, class of 2010. While at the Benjamin N. Cardozo School of Law, she served as the co- Managing Editor of the Journal of Law and Gender. She also served as the Presi-dent and Treasurer of the Black Law Students Association and Christian Legal Society, respectively. Chantal currently serves as a member of the Black Asian Latino Law Student Association Alumni Group. 
Chantal is proud of her Adelphi University undergraduate degree. While at Adelphi University, she served in many student organizations on campus and was a member of two honor societies. She was recently recognized as an Adelphi University "10 Under 10" alumna. Currently, Chantal serves as a Trustee on Adelphi University's Board of Trustees. 
For more information about Chantal read her 10 under 10 article.