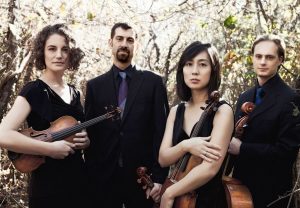 On Friday, October 28, 2016, at 7:30 p.m., the acclaimed Chiara String Quartet (Rebecca Fischer and Hyeyung Julie Yoon, violins; Jonah Sirota, viola; Gregory Beaver, cello) will perform at the Adelphi University Performing Arts Center (AUPAC), on the Westermann Stage in the Concert Hall, 1 South Avenue, Garden City, NY. The Chiara has established itself as among America's most respected ensembles, lauded for its "highly virtuosic, edge-of-the-seat playing" (The Boston Globe).
Enjoy an evening program that will include Britten's Three Divertimenti; Schubert's String Quartet No. 13 in A Minor, Op. 29; and Beethoven's String Quartet No. 13 in Bb Major, Op. 130 with Grande Fugue, Op. 133. The Chiara's latest recording is Bartók by Heart, a 2-CD set featuring Bartók's six string quartets, played entirely from memory, released in August 2016 on Azica. The quartet's previous album, Brahms by Heart, was released on Azica in March 2014.
Performing together since 2000, the Chiara Quartet is renowned for bringing fresh excitement to traditional string quartet repertoire as well as for creating insightful interpretations of new music. The Chiara's recent honors include the nomination of its recording of Jefferson Friedman's String Quartet No. 3 for a Grammy Award in 2011 and the ASCAP/Chamber Music America Award for Adventurous Programming for the 2010-2011 season.
Chiara Quartet regularly perform in major concert halls across the country, including Lincoln Center's Alice Tully Hall and Carnegie Hall.
More information about the Chiara Quartet can be found at chiaraquartet.net and on Facebook at facebook.com/chiarastringquartet.
Adelphi University Performing Arts Center (AUPAC) is one of Long Island's premier cultural arts venues for entertainment of all kinds. Tickets are currently on sale and are priced at $30, with discounts available to seniors, students and alumni. Information is available at The Lucia and Steven N. Fischer Box Office at 516.877.4000 or boxoffice@adelphi.edu. Regular box office hours are Tuesday through Friday from 1:00-6:00 p.m. The box office is also open two hours before most scheduled performances.