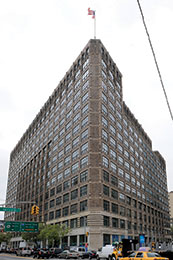 Adelphi's College of Nursing and Public Health extends its reach well beyond the Garden City campus, with programs offered at the Manhattan Center, the Hudson Valley Center and the Suffolk centers. Their selling points include attractive scheduling for those with jobs and locations more convenient for those living nearer to these sites than to the main campus.
From a career standpoint, moreover, the Registered Nurse to Bachelor of Science (R.N. to B.S.) degree has become increasingly important now that more and more hospitals require the B.S. This trend, supported by the American Association of Colleges of Nursing, was given considerable impetus by the Institute of Medicine's 2010 report, The Future of Nursing: Leading Change, Advancing Health, which recommended that leaders in healthcare systems and nursing schools work toward boosting the proportion of nurses with baccalaureate degrees from 50 percent to 80 percent of all R.N.s by 2020.
Here's a look at the nursing programs available at the off-campus sites:
At the Manhattan Center, "We have our traditional evening B.S. in Nursing program for transfers," said Irene Auteri Ferguson '79, the center's director of nursing. "We have an R.N. to B.S./M.S. program as well." The latter courses take place one day per week.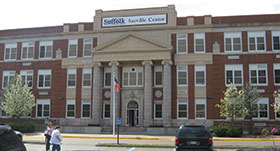 The Sayville Downtown Center offers the R.N. to B.S. in Nursing. "The M.S. program we will offer in the Hauppauge Education and Conference Center will be the M.S. in Nursing Administration, as of Fall 2015," said Kathryn Lang, coordinator of Suffolk County nursing programs.
Adelphi first announced plans to bolster its Suffolk presence in summer 2012 through a partnership with Suffolk County Community College that allowed the University to start offering a nursing program in 2013. Linn Cartagena, associate director of the Suffolk centers, noted that Adelphi is "working on starting criminal justice and social science degree programs through University College in the Sayville location."
The Hudson Valley Center offers the R.N. to B.S. in Nursing. Adelphi is exploring the eventual addition of the M.S. in Nursing Administration here and elsewhere.
The School of Social Work also offers programs at three Adelphi off-campus sites, the Manhattan Center, the Hauppauge Education and Conference Center and the Hudson Valley Center.
Cheryl McAuliffe, Ph.D. '13, director of the B.S.W. program, said, "We offer the B.S.W. and M.S.W. in Hauppauge and Manhattan."
At the Manhattan Center, ANSWER B.S.W./M.S.W. classes are scheduled on weekday evenings and Saturdays to accommodate working professionals and transfer students. (ANSWER, an acronym for Adelphi's New Social Welfare Education Routes, enables nontraditional students to return to academics while allowing them to receive credit for social work-related employment, Dr. McAuliffe said.)
"Our M.S.W. is also offered in the Hudson Valley Center," she added.
Citing benefits particular to the Hauppauge Center, Dr. McAuliffe said Adelphi provides a seamless transfer from Suffolk County Community College to Adelphi and offers evening classes attractive to working students, field placements located in Suffolk County during daytime hours, a convenient location for Suffolk residents and the opportunity to … and in Social Work attend Suffolk County National Association of Social Work steering committee meetings (held at the Hauppauge Center).
In addition, she said, School of Social Work students can attend continuing education workshops on-site.
Social work students at both the Hauppauge and Manhattan centers can also apply for the advanced-standing one-year M.S.W., also offered on site, and have access to all electives and specializations offered at extension centers, she added.
This piece appeared in the 
Fall 2015 Transfer Students Newsletter.