The following announcement has been shared with the Adelphi community by Interim Provost Sam Grogg.
Dear Colleagues,  
I am pleased to announce that Dr. Christopher K. Storm, Jr. has been appointed associate provost for faculty advancement and research. 
As you recall, a key initiative of our strategic plan is to increase the infrastructure to support faculty scholarship, creative work and teaching at Adelphi. This newly structured position within the provost's office is an important step in this area. In his new role, Chris will be responsible for the oversight and leadership of faculty professional development programs, program support of faculty research, scholarship and creative work, course planning, the office of sponsored programs, the Faculty Center for Professional Excellence and related efforts designed to advance faculty excellence in teaching and scholarship.
Many of you have worked with Chris over the years. He is currently an associate professor and chair in the Department of Mathematics and Computer Science at Adelphi. He joined Adelphi in 2007 and has been an active contributor to his department, the College of Arts and Sciences and the University. Chris is a productive scholar in pure mathematics theory as well as in the scholarship of teaching and learning in math. He has been deeply involved in the development of the University's High Impact Practices (HIP) committee supporting engaged and effective teaching as well as in the development of undergraduate research programs and leadership of Adelphi's Annual Research Conference.
I know you join me in welcoming Chris to his new role and wish him well as he advances these important priorities.
Thank you.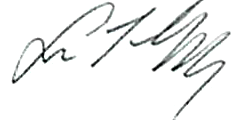 Sam L Grogg, Ph.D.
Interim Provost and Executive Vice President