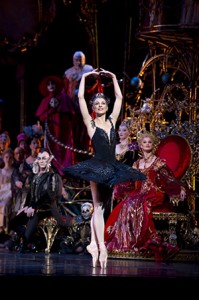 La Bohéme from
the Royal Opera House.
A young gentleman walks into a low-lit theatre with a smirk he can't quite hide despite his effort. His smile betrays him—he's doing something he's never done before. He's escorting his date by the arm and is able to take her to the opera, a ballet or a foreign film—whichever she prefers. This is no pricey excursion that will empty his wallet. He's taking her to a place where he might bump into a fellow student, one of his professors or a staff member. He's taking his date to Adelphi University's Performing Arts Center (AUPAC).
AUPAC is still the Unversity's premier performance venue for students and guest artists. The Concert Hall has the same 500 seats and 53,000-square-feet of walls, lighting, chairs and stage, but the screen is bigger. At about 30 feet in width, the new high-definition projection screen is double the size of its predecessor.
When the lights in the Concert Hall dim, the world the audience knows will disappear for the next few hours as the white canvas screen transports them to renowned spaces throughout Europe. The Adelphi community and visitors hungry for the arts can now watch high-definition digital presentations of ballet, opera or whatever the innovative AUPAC staff has in store. The new HD projector is a gateway to greater cultural awareness.
Blyth Daylong, executive director of AUPAC, is excited about the possibilities the screens create. In its first year, there were screenings of interest to everyone in every genre. From political films and food documentaries to big-budget productions on the silver screen and holiday-themed events, there is something to entertain, educate and delight everyone.
Receptions and panels held before and after the screenings complete the audience's experience. "This is a safe way for people to discover [culture]," Mr. Daylong said. "Maybe you'll come to a screening of an opera, find out you like it and then feel more comfortable going to a live performance someday."