Finding a job you can do while still in school can be tricky. Finding one that you love and that will expose you to the environments and skills you'll need after graduation can be even harder. But not anymore. Adelphi University is now one of the schools participating in Handshake, a career portal that connects students (and alumni) with employers locally as well as nationwide.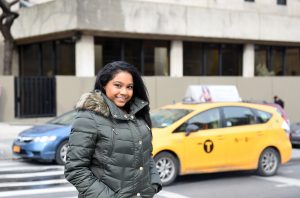 "Handshake is a win-win for students and employers," said Thomas J. Ward Jr. '93, executive director of Adelphi's Center for Career and Professional Development. "It's a powerful tool that connects students with exciting internship and job opportunities and that helps employers find highly qualified candidates."For Adelphi alumna and current graduate student Karishma Samaroo '18, the opportunity to get real-world research experience while still in her first year of a master's program in psychology at Adelphi's Gordon F. Derner Institute of Advanced Psychological Studies was a dream come true. A dream realized via the Handshake career portal.
"I was looking for a research opportunity, found this one with a doctoral student in psychology at Columbia and was able to connect with her directly about the internship through Handshake," Samaroo said. Now, as an intern, Samaroo is helping a Columbia doctoral student conduct and transcribe interviews for the student's dissertation on how low income and minority families in Harlem are impacted by the school system.
"My goal while working on my masters at Adelphi is to do my own research on addiction in adolescents and the impact on society," Samaroo said. "I'm excited for this opportunity to gain more research skills and the confidence to do it on my own." Samaroo would like to find herself working in a hospital as a substance abuse or mental health counselor after completing her masters. And beyond that, she dreams of pursuing a Ph.D. "And having this internship at Columbia on her résumé is definitely going to help her write that ticket," Bernadine Waller, M.A. '10. associate director of the Center for Career and Professional Development.