by Dan Rossi '16

It's not too often that the Adelphi campus gets everyone together for one large, multidisciplinary event. But this is exactly what Adelphi's annual Ephemeral exhibition, and more specifically the campus-wide Chalk UP! has done for the last three years.
"It's not just art and dance this year," Professor Kellyann Monaghan, associate professor of art remarked. "There's also theater and music this afternoon. I think of it kind of like an arts festival day." Monaghan asked her art students to make drawings of a family member, a memory or someone influential who is no longer with them­—a heavy assignment that fits well into this year's theme, "The Spirits Among Us."
Many other students agreed with Monaghan's sentiments. Amanda Holtz, a studio art sophomore was particularly excited to use her work to spread the word about ASTEP (Artists Striving to End Poverty), an organization dedicated to bringing the arts to underserved youth all around the world. Holtz is involved in a branch of ASTEP at Adelphi. "It's a really great way to get the arts spread across campus," she explained. "It gets everyone involved—like all the sororities and fraternities actually making art."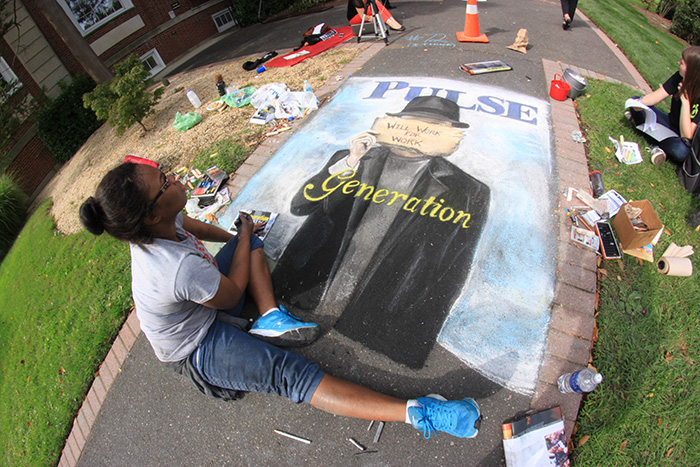 Sarah Spencer, a senior and studio art major specializing in photography, added, "Each year it just keeps getting better." Spencer was drawing from a photo portrait of her great-grandparents, whom she knows only from the many photos displayed throughout her family's home.
The theme of "The Spirits Among Us" was chosen to tackle how artists handle death, spirituality, religion and the afterlife. While the theme is mainly directed at the formal gallery exhibit in the University Center, all students participating in Chalk UP! were, either consciously or not, participating in the ephemeral. Chalk doesn't last long; it's short-lived. Sure enough, all of the students' art washed away a few hours later with heavy rain—a truly ephemeral Chalk UP!
After Chalk UP! and the exciting Ghost Stories in the Thomas Dixon Lovely Ballroom in the Ruth S. Harley University Center, attendees were guided to the first floor gallery, where Carson Fox, associate professor of art and art history, talked about curating the exhibit. The works included demonstrate how artists explore the idea of death and spirituality and how that might tie to the body, mortality and religion. She said that when considering the theme, it occurred to her that while the concept of Ephemeral is fairly vague, this allows a lot of diversity in the art, as each piece is open to interpretation. The exhibition essay in the gallery reads:
"Throughout Kiki Smith's career, she has explored this relationship, creating finely rendered images of animals that express the spiritual state that humanity often neglects. Cynthia Thompson's elegant works are marked by a childhood spent in a strict Christian household. Her prints and artist books provocatively whisper about notions of shame and the dangers of restrained desire. Mark Fox's work also channels his religious upbringing, as he reclaims ritualistic practice in the process of making art."
As another part of Ephemeral, Carson Fox moderated a panel on October 29, where artists, educators and art critics discussed the topic of ritual practice and religion in the arts. How do we define a ritual? Does a ritual need to fulfill a purpose? Does a religious object lose its value if there is no one worshipping it? These are just a few of the issues being debated in the contemporary art community. The panel even included Katie Reign, a Wiccan practitioner. Reign sought to shed some light on what it means to be a Wiccan, and she outlined some of its ties to art, ritual and other religious practices.
With each year bringing so much energy and more impressive art from faculty, students and professionals, Ephemeral is quickly gaining popularity and attention on campus.
About Adelphi: A modern metropolitan university with a personalized approach to higher learning.
Adelphi University is a highly awarded, nationally ranked, powerfully connected doctoral research university offering exceptional liberal arts and sciences programs and professional training with particular strength in its Core Four—Arts and Humanities, STEM and Social Sciences, the Business and Education Professions, and Health and Wellness. Adelphi is dedicated to transforming students' lives through small classes, hands-on learning and innovative ways to support student success.
Founded in Brooklyn in 1896, Adelphi is Long Island's oldest private coeducational university. Today Adelphi serves nearly 8,000 students at its beautiful main campus in Garden City, New York—just 23 miles from New York City's cultural and internship opportunities—and at dynamic learning hubs in Manhattan, the Hudson Valley and Suffolk County, and online.
More than 100,000 Adelphi graduates have gained the skills to thrive professionally as active, caring citizens, making their mark on the University, their communities and the world.