News from the Adelphi NY Statewide Breast Cancer Hotline & Support Program
May 4, 2017
Contact: Lyn Dobrin, 516-997-8545
Grant Enables Adelphi Breast Cancer Program to Expand Help to Underserved Women
The Adelphi NY Statewide Breast Cancer Program is the recipient of a grant from Kat's Ribbon of Hope (KROH) that will allow the program to expand its services for bilingual social work/patient navigation at local hospitals. Kat's Ribbon of Hope, Inc., established in 2013, provides financial assistance to women who otherwise would not be able to afford early detection and treatment services for breast cancer. These women die at twice the rate of those who can afford medical attention.
Currently bilingual social workers/patient navigators from the Adelphi Program meet with patients immediately following their breast cancer diagnosis at Nassau University Medical Center (NUMC). These staff members provide on-going support and follow patients through diagnosis and treatment including surgery, chemotherapy, radiation and reconstruction.  The program at NUMC addresses disparities in mortality by providing psychosocial support, counseling, patient navigation and concrete services to underserved patients with breast cancer. 
The funds received from KROH have enabled the breast cancer program to hire a second part-time bilingual social worker/patient navigator. Additionally, in June, the program will begin Spanish language support groups at community centers for patients and their families.
"Kat's Ribbon of Hope is very proud to continue our collaboration with the Adelphi Breast Cancer Program by funding an additional patient navigator to help serve the many women and men in the community facing breast cancer," says Despina Yarian, cofounder and chair of KROH.
The Adelphi NY Statewide Breast Cancer Hotline & Support Program, established in 1980, offers free emotional support and information to people coping with cancer. The hotline can be reached at 800-877-8077.
To learn about these two organization visit katsribbonofhope.com and breast-cancer.adelph.edu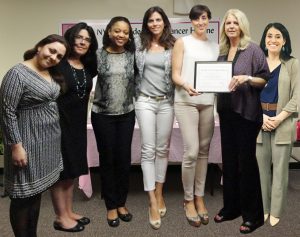 Photo: Despina Yarian and Kat Raptis  (4th and 5th from left) present award letter to Hillary Rutter, director of the Adelphi Breast Cancer Program.
With them are staff who provide services at NUMC: Angelica Medina, Lois Goetz, Naomi Cunningham, and Angela Papalia.