News from the Adelphi NY Statewide Breast Cancer Program
December 4, 2017
Contact: Lyn Dobrin, 516-997-8545
New Hyde Park High School raises funds for the Adelphi NY Statewide Breast Cancer Hotline & Support Program

This October—Breast Cancer Awareness Month—there was an all-out effort on the part of students, faculty and staff at New Hyde Park High School, resulting in a donation of $2775 to the Adelphi NY Statewide Breast Cancer & Support Program. Throughout the month all sectors to the school participated. Activities included a Pink Mile Walk-a-thon and Paint for a Cure in which 100 pumpkins were bought and painted by faculty staff and students. All athletic teams played a "pink" game at which raffles were collected and on "Pink It Up Day" participants dressed completely in pink. Art Students made awareness artwork that was displayed on the Adelphi Breast Cancer Support Program webpage.
English teacher Kathleen Kaspar spearheaded the fundraising activities. Says Dr. Richard Faccio, principal of New Hyde Park Memorial HS, "Through the hard work and dedication of Mrs. Kaspar, the month of October was continuously 'Pink' and the large donation to the Adelphi Breast Cancer Program was made possible."
Ms. Kaspar, a breast cancer survivor, appreciates that the activities during the month not only raised money but also awareness about breast cancer on Long Island. "The New Hyde Park Memorial School community was very generous during Pink October 2017," she says. "I am proud and blessed to be part of such a supportive school community."
School organizations that were very involved in the fundraising were the Student Council and the Key Club with its advisor Lisa Bocchino.
The Adelphi NY Statewide Breast Cancer Hotline & Support Program provides information, referrals and emotional support to people coping with breast cancer. Call 800-877-8077. You are not alone.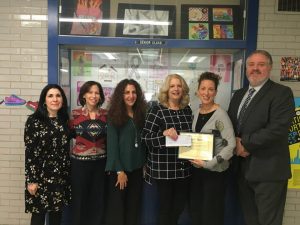 Photo caption:
From left: Kimberly Newman, Adelphi Breast Cancer Program communications and marketing coordinator; Alida Rubenstein, Adelphi Hotline Coordinator; Lisa Bocchino, teacher of the deaf; Hillary Rutter, Adelphi Hotline executive director; Kathleen Kaspar, English teacher, and Richard Faccio, principal.