How do social workers influence policy decisions? What can be done to expand protections for people with disabilities and to improve the U.S. government's child care provisions?
Elizabeth Palley, Ph.D., J.D., professor in Adelphi University's School of Social Work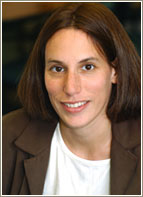 , addressed these questions and more in a recent interview with Online MSW Programs, a comprehensive directory of accredited online M.S.W. programs.
Dr. Palley discussed her research on child care policy and her recent book, In Our Hands: The Struggle for U.S. Child Care Policy (NYU Press, 2014). "Most women work, and in the United States, we do not have adequate social systems to ensure that all children are safe and receiving high quality care," she said.
Dr. Palley also discussed Adelphi's approach to preparing the next generation of social workers through in-person and blended courses. Of the blended courses she teaches, Dr. Palley said, "The strength of the blended model is that it allows for both in-class interaction and online learning."