Being listed as one of the safest colleges in the nation is a great source of pride at Adelphi University, and we are taking steps to keep up our record and keep our community—particularly our students—safe.
To this end, the Department of Public Safety and Transportation recently unveiled a state-of-the-art command center dedicated to keeping our entire community safe year-round and around the clock.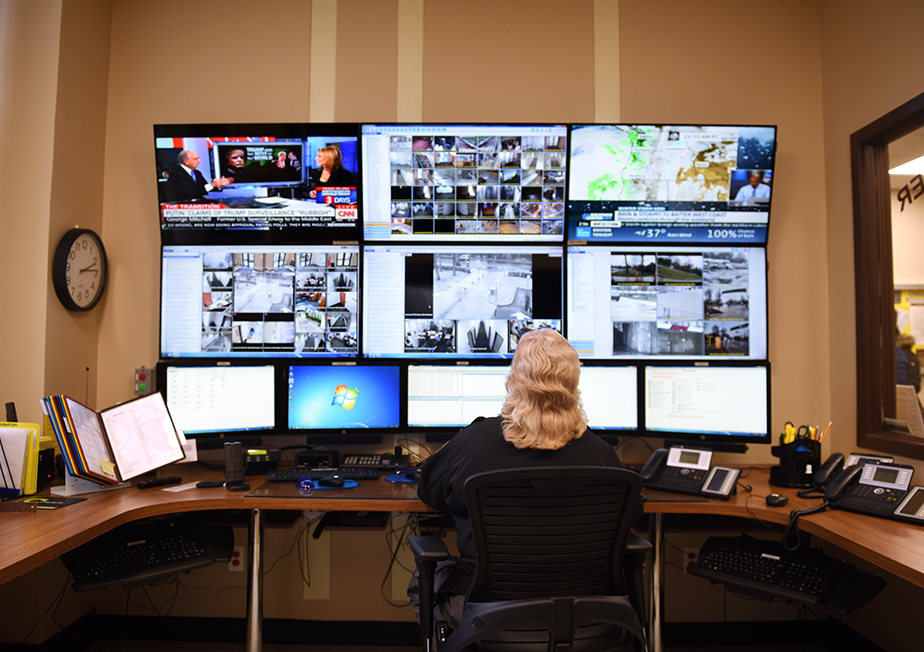 With more than 400 cameras covering 90 percent of the Garden City campus, officers inside the center can view incidents that may happen and instantly dispatch support to the location. The center also facilitates direct communication with the Nassau County Office of Emergency Management, the Garden City Police Department and the Garden City Fire Department.
According to Gene Palma, associate vice president for public safety and campus transportation, the new center is just one of the many ways Adelphi is continuing to upgrade safety on campus. "We have gone through a real transformation in public safety and emergency management over the past two decades," he said. When Palma first arrived at the University, the department consisted of 12 to 15 public safety officers and one supervisor. Now Adelphi is in the vanguard of schools across the nation practicing exemplary public safety.
In 2015, Background Checks.org listed Adelphi as one of the 50 safest colleges in the nation based on data obtained from the U.S. Department of Education. Niche, a comprehensive college review website, ranks Adelphi for 2017 as the 15th-safest college in New York State. The Adelphi community is seconding that feedback. In a mandatory quality-of-life survey, 96 percent of resident students reported that they feel safe on campus.
A proactive—rather than reactive—approach is the foundation of public safety at Adelphi. "We have countless tools in place for that 'What if?' scenario," Palma said. The infrastructure includes an emergency operations center, a crime prevention division, an operations division and a special events division, all of which are designed to accommodate the wide range of programs and activities on campus. There are also procedures to handle hostile shooters, bomb threats, suspicious packages, severe weather, peaceful protests and emergency evacuations.
"Part of our job is to anticipate and plan for things that people don't want to talk about," Palma said. "We don't wait for the incident to occur to start opening our playbook."
As part of its continuing quest to enhance campus safety, the Department of Public Safety and Transportation will be introducing a student patrol program that supplies extra sets of eyes and ears during high-volume events such as concerts and athletic competitions. Working closely with Adelphi University President Christine M. Riordan, the department plans to keep investing in top-of-the-line technology and training.
"There is nothing more important than the safety of our students," Palma said. "We want them to have the best years of their lives here, and that means keeping them secure and worry-free."