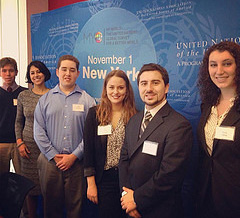 By Valeria Mendoza
The United Nations Association of the United States of America (UNA-USA) chapters throughout the country are engaging the public in open dialogue, on behalf of the United Nations, in the hope of gathering the country's feedback and consensus on the post-2015 Development Agenda. Contributions made at these consultative meetings will be used by UNA-USA in their report to be presented to the United Nations Secretary General at the end of the year.
In November, Adelphi students, field experts, nonprofit representatives, and savvy business professionals gathered to take part in the Southern New York State Division's Post-2015 Development Agenda Consultation. It was fascinating to get a firsthand account of the process and to be included in the discussion. My LGS peers—Ida Eriksson, Steven Marchese, Andrew Martin, Erica White—and I could not have been more grateful to participate!
To ensure that students like myself are prepared to respond to the problems of tomorrow,
this type of dialogue with experts and professionals is crucial in fostering youth's civic engagement. Maintaining an active role in organizations such as UNA-USA could not be more helpful to this effort!
For those interested, make your opinion count by taking the My World United Nations for a Better World Survey at:
myworld2015.org