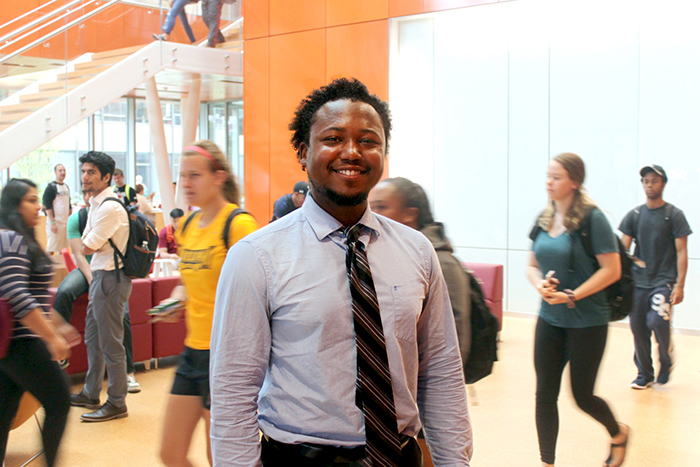 Jason Spradley is excited to be at Adelphi and described his new role as assistant director of the Center for Student Involvement, with responsibility for multicultural programming and community service initiatives, as a "perfect fit" for his background and interests. His wants to create a culture of sharing and inclusion at Adelphi—what he termed "an intercultural environment."
From prior roles at Hofstra University and Kingsborough Community College, he has gained experience working with students from diverse and multicultural backgrounds. He has also studied rhetoric and communications, with a particular focus on issues pertaining to members of the black and LGBTQ communities.
Just a few weeks after starting his new role this summer, he has already planned a number of new initiatives. One is a panel on race and policing to talk about "where wee go from here after such a dynamic summer."
Spradley also wants to increase Adelphi's Campus Pride Index rating—a measure of LGBTQ inclusiveness. He noted that Adelphi already offers gender-inclusive housing and said that other sources of support, including scholarships and programming such as a Lavender Graduation, will help.
He will be busy planning Adelphi's many student community service programs, including AU Cares Days, blood drives and the annual Relay for Life fundraiser, among many others.
He looks forward to working with students and colleagues from across campus to plan ongoing and new programs.
What does he do in his spare time? "I really love yoga," he said. A former coach and competitor, he is also a big fan of speech and debate, and he likes running.
Spradley, who is originally from Texas, enjoys life in New York, but misses the creole Tex-Mex cooking of home.