"We are between the amateur and the professional world, and that can often induce a feeling of madness," writes Joshua King about his experience as a graduate student in creative writing on a blog he helped found for student ambassadors of P.E.N. International. "But that feeling of madness can be good. It reminds us that what we're doing is important."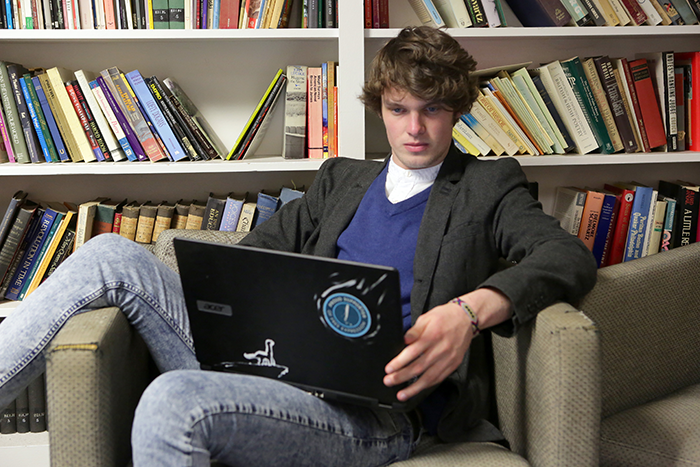 The playfulness of his introduction encapsulates the dual sense of humor and hope that has colored King's approach to his life in New York since flying across the pond from England in 2014. King, who has already had his work performed at the Edinburgh Fringe Festival, won a scholarship, which secured his position as an M.F.A. in Creative Writing student at Adelphi.
"I basically planned to not be able to afford going to New York," he admitted dryly, "but then they sent me the job applications and they wanted to give me a scholarship. It all worked out so easily I couldn't believe it."
King's efforts to establish a community of writers originated with the scholarship and stipend he received through Adelphi's Jerry Cain and Scott James Creative Writing and Social Media Fellowship, which supports students who show talent in both writing and digital media. As the program's first fellow, King has established a social media presence for Adelphi's M.F.A. in Creative Writing program.
"Our careers and lives mix writing, education, social media and technology," fellowship co-founder Scott James '84 was quoted saying in a March 2014 press release announcing the scholarship. The fellowship aims to help aspiring writers capitalize on this trend to propel their writing forward.
James served as a journalist for The New York Times and the Bay Citizen before he began writing fiction. He combined social media with literature himself when he published his second novel, The Sower, exclusively as an e-book under his pen name, Kemble Scott.
King, likewise, promotes literature via social media. He is editor-at-large of the online literary journal, Village of Crickets, and curates its As & When blog. He also helped create the blog for the P.E.N. Ambassadorship, which works with P.E.N. International, an organization dedicated to promoting writers and their freedom of speech around the world. King and fellow aspiring authors write letters of support to suppressed writers across the globe, from bloggers in Saudi Arabia to journalists in Ethiopia.
"What I wanted to do through social media was build the group of M.F.A. writers and students in New York to get more of a community together," King explained. "I benefited so much from the city in terms of reading and meeting different people, so I really want to promote the writing life that is available."
His efforts also allow him to keep his finger on the pulse of what is happening in the literary world, particularly in Manhattan, where he frequents literary readings and plays to inspire his own writing.
With titles like "To Fall in Love & Come to Be Killed," "In With The Bears" and "Reed and the Second Coming," King's own short stories brim with post-modern cynicism and bone-dry wit. Take "In With The Bears," which covers the fate of wee Jane Timkin who falls into a bear pit while visiting the zoo to the vague amusement of onlookers who stop to capture the moment on their smartphones.
"The simplest explanation is always the most likely. Or is it the other way around? I always forget," claims an inspector in his short play "The Cow," a black comedy that plays with perception. The one-act play won the 2015 Dramatic Writing Award from Adelphi's Department of English.
King's playwriting also received attention in the United Kingdom, where several of his plays have been performed at his university, Royal Holloway University of London, and one was selected for the Edinburgh Fringe Festival.
But coming to the United States, King has shifted gears and hopes to complete a novel. "It's something that is only associated with this country: the great American novel," he said. "This country was built on Mark Twain and Hemingway. And so I think coming to New York, I wanted something where I could rent a little apartment, get a desk and get a novel done."
Despite this largely solitary pursuit, King has forged familiarity with the bustle and activity of the literary world.
"I think that feeling is what I wanted from the M.F.A. program… I think it's important to realize that what you're doing is trying to join something that's bigger than yourself. What I see as the end goal is changing the world."
About Adelphi: A modern metropolitan university with a personalized approach to higher learning.
Adelphi University is a highly awarded, nationally ranked, powerfully connected doctoral research university offering exceptional liberal arts and sciences programs and professional training with particular strength in its Core Four—Arts and Humanities, STEM and Social Sciences, the Business and Education Professions, and Health and Wellness. Adelphi is dedicated to transforming students' lives through small classes, hands-on learning and innovative ways to support student success.
Founded in Brooklyn in 1896, Adelphi is Long Island's oldest private coeducational university. Today Adelphi serves nearly 8,000 students at its beautiful main campus in Garden City, New York—just 23 miles from New York City's cultural and internship opportunities—and at dynamic learning hubs in Manhattan, the Hudson Valley and Suffolk County, and online.
More than 100,000 Adelphi graduates have gained the skills to thrive professionally as active, caring citizens, making their mark on the University, their communities and the world.