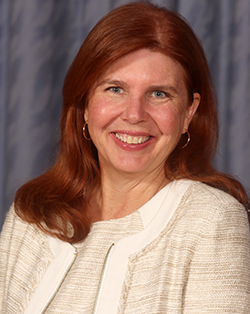 The Adelphi University Board of Trustees voted to create the position of vice president for communications and appoint Lori Duggan Gold to the position. Ms. Duggan Gold previously served as the University's executive director of external relations and assistant to the president. In this new position, she will oversee the University's marketing, internal and external communications, and community, media, public, and government relations functions.
In making the nomination, Adelphi University President Robert A. Scott said, "During her four years with the University, Lori has been a vital member of my senior leadership team. In this new position, I am confident she will continue to work strategically to enhance the University's communications and outreach programs."
Ms. Duggan Gold joined Adelphi in 2003 as the director of public affairs and assistant to the president charged with revitalizing the University's public relations, government relations, and community relations programs. In June 2004, she was named executive director of external relations and given the added responsibility of overseeing the University's alumni relations efforts. Following an 18-month strategic planning and growth period, alumni relations was re-established as a division of the Office of University Advancement when Ms. Duggan Gold was asked to take the additional responsibility of the management and creative direction for the University's marketing and advertising efforts.
During her career at the University, she created and implemented national publicity campaigns, produced numerous award-winning publications and public affairs programs, and worked with marketing and communications teams to heighten awareness of Adelphi and its priorities. She serves as the University's primary liaison with elected officials and is responsible for strategic planning and counseling, issues management, government grants, legislative lobbying at all levels, and is the University's representative at regional and national events.
Prior to joining Adelphi University, Ms. Duggan Gold held strategic communications positions in publishing and education companies and government and non-profit agencies. She received her undergraduate degree in government and metropolitan studies from New York University and is currently pursing a graduate certificate in Adelphi University's Emergency Management program.