For a growing number of Adelphi students, summer is a time to pursue passions and explore careers through research and internship opportunities. Adelphi has established a number of programs to support students as they make the most of their summer.
See what Adelphi students are up to in Summer 2016.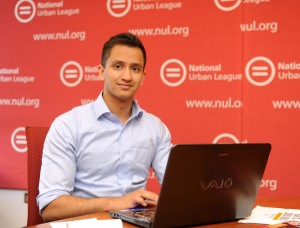 Sarthak Arora is interning at the National Urban League, thanks to Adelphi's Jaggar Community Fellows Program. 
Jaggar Community Fellows Program
A competitive, and often life-changing, paid summer internship for nongraduating (freshmen through graduate) students, providing them with an opportunity to gain valuable experience in the nonprofit sector  
The 2016 Jaggar Community Fellows are:
The American National Red Cross: Shayla Clarke, Maham Mahmood, Meredith Mounty
Catholic Charities: Stephanie Ganor, Kaitlyn Jockers, Aimee Kaplan
The Cedarmore Corporation: Tina Beahm
Cold Spring Harbor Laboratory: Alexus Haddad
Community Counseling & Mediation: Katisha Deacon, Rafeya Howlader, Sharahn Rosser
Cradle of Aviation Museum: Lani Chau, Monica Marshall, Katelyn Simmons
Family & Children's Association: Laura Mauceri
The Feinstein Institute for Medical Research: Amanda Kim
Five Towns Community Chest: Brittany Gross
Five Towns Early Learning Center: Geena Bruno, Jenisa Caban, Dominique Powell
Foundation for Sight and Sound: Leah Reisert
Friends of the Bay: Valerie Fiore
Girls Inc. of Long Island: Julia Evans and Emily Harris
Girl Scouts of the United States of America: J'atienne Campbell and Anureet Kaur
Huntington Arts Council: Thomas Gonzalez
Jamaica Bay Terrapin Research Project: Samuel Gorelik
Leadership Training Institute: Sarai Rodas
Lighthouse Guild: Jacqueline Perez
Long Island Alzheimer's Foundation: Omar Hameed and Monika Mikolajczak
Long Island Children's Museum: Shannon Enderle and Rima Patel
Mental Health Association of Nassau County: Marlene Rodriguez
Music & Memory: Jacob Chernack and Isuri Wijesundara
Nassau Land Trust: Vanessa Dwyre
National Multiple Sclerosis Society: Ravneet Kaur and Michael Miskiewicz
National Urban League: Sarthak Arora and Maria Bruzon
New York Cares: Ayako Nakashita, Ray Pisacane, Polina Sorokina, Melanie Strano, Kristen Sylvan
North Shore Animal League America: Bryan Grilli
Northwell Health: Janay Johnson, Hardeep Kaur, Leslie Limo, Adiena Persaud, Timothy Shavuo
Northwell Health Lions Eye Bank: Kendall Garrett
Outward Bound Center for Peacebuilding: Nandine Hemraj
PEACE, Inc.: Aniqa Islam
The Public Access TV Corporation, Inc. (PATV-Long Island): Christopher Greco and Steven Vascellaro
Rural & Migrant Ministry, Inc.: Georgia Linaris, Joshua Littman
Science Museum of Long Island: Sarah Han and Gabrielle Henis
United Way of Long Island: Angela Morales
Winthrop-University Hospital: Dominick Bacchi
Women's Fund of Long Island: Emily Elefonte
The Worker Institute at Cornell: Maya Faison
A 10-week full-time science research program that provides $4,000 to each student to undertake summer study in the sciences, with the mentorship of an Adelphi faculty member
The 2016 McDonell Fellows, by subject:
Biology
Rahanna Khan: studying the morphological effects of Bisphenol A on Danio rerio, under the mentorship of Andrea Ward, Ph.D., associate professor
Alissa Schurr: studying the analysis of the relationship between atypical PKC iota (aPKCCƖ) and VHL-medicated cellular phenotypes in 786-0 cells, under the mentorship of Alan Schoenfeld, Ph.D., department chair and professor
Sabah Tariq: studying the physiological and behavioral differentiation in wolf spiders from distinct salt marsh patches in the South Shore Estuary, under the mentorship of Matthias Foellmer, Ph.D., associate professor
Biochemistry
Ezer Castillo: studying the development of poly(indole-5-carboxylic acid)/tyrosinase hydrogel as biosensor for catechol detection, under the mentorship of Justyna Widera, Ph.D., associate professor
Samantha Muellers: studying the fragment screening of adenosine/guanosine preferring nucleoside ribohydrolase, under the mentorship of Brian Stockman, Ph.D., associate professor
Physics
Phil Beylison: studying the design and modeling of spouted bed reactors, under the mentorship of John P. Dooher, Ph.D., department chair and professor
Ivan Miketic: studying the design and fabrication of a portable sensor for monitoring ambient nitrogen dioxide with high sensitivity and specificity, under the mentorship of Gottipaty Rao, Ph.D., professor
Tara Pena: studying the optimal control of atomic excitation with frequency chirped laser light, under the mentorship of Matthew J. Wright, Ph.D., assistant professor
Honors College Summer Research Fellowship
Provides stipends—$500 per week for eight weeks—to undergraduate students in Adelphi's Honors College to pursue original scholarship
2016 Honors College Summer Research Fellows, by topic:
Biology, Health and Medicine
Alia Danilo: exploring the works of Charles Bukowski in aid of understanding how mental health disorders affect the creative process
Kathryn Graham: examining the possible relationship of conditions of physical health and borderline personality disorder in adolescents
Veronica Grebe: developing electrochemical methods to detect low concentrations of dopamine for potential medical applications
Emma Ryan and Rheba Sam: using rapamycin to treat mitochondrial disorders in the fruit fly, with a view to eventual use in treating diseases such as Parkinson's and Alzheimer's
Angela Schickling: exploring the possible relationship between birth order and attachment security
Daniella Volaric: using CRISPR (clustered regularly interspaced short palindromic repeats) genetic manipulation techniques to examine protein functions in renal cells
Business and Economics
Rozmari Chakarova: looking at current marketing and public relations efforts in Cuba as attempts to build brand awareness in a state without commercial advertising
Robert Lee: studying the effects of the use of negative interest rates as an effort to stimulate national economies and if the United States should consider this move
Vladyslav Verba: building an app to bring young entrepreneurs together so that they can share and pool their skills, facilitating collective efforts
Literature, Music, Art, Design and Performing Arts
Nicole Heneveld: comparing representations of the Restoration actress Nell Gwyn from her own time to the present in literature, television and film
Gabriela Mora: studying the techniques of Michelangelo, Caravaggio and Rembrandt in using the human figure as a means of expression
Christopher Trietsch: designing and building a baritone ukulele
Rachel Vacca: using theories of political and philosophical revolution, from Thomas Paine to Hannah Arendt, in reading and interpreting literature depicting the French Revolution