On Thursday, April 25, 2013, President Robert A. Scott will be honored with the Dr. Charles H. Levermore Educator of the Year Award by Adelphi Academy on occasion of its 150th anniversary. The event will take place at Gargiulo's Restaurant in Coney Island, NY.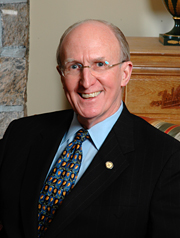 Dr. Robert A. Scott was appointed president and professor of anthropology and sociology of Adelphi University in July 2000. Since then, Adelphi's campus has flourished, with a 40% increase in enrollment and the addition of 135 faculty members. New construction projects under President Scott have included the Center for Recreation and Sports, the Performing Arts Center, the Klapper Fine Arts Center, the Alice Brown Early Learning Center, and new "green" residence halls. Numerous cultural events, such as lectures, art exhibits, music, dance, and theatre performances have attracted alumni, local residents and those from the larger metropolitan area. President Scott also founded Vital Signs, a social health assessment project and the University's Long Island Center for Nonprofit Leadership.
President Scott's achievements have not gone unnoticed. He was named one of the 100 Most Influential Long Islanders by Long Island Business News and was recognized with the 2008 Chief Executive Leadership Award by the Council for Advancement and Support of Education (CASE) District II, in addition to many other honors. He is the only American to serve in the three top posts in higher education: head of an independent university (Adelphi); a public institution (Ramapo College), and a state higher education coordinating agency (New Jersey and Indiana). He earned his Bachelor of Arts degree at Bucknell University and his Ph.D. at Cornell University.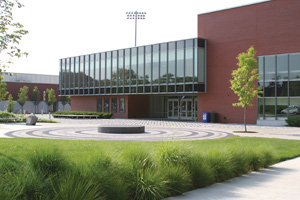 Located in Brooklyn, NY, Adelphi Academy dates back to 1863. Thirty years after its founding, Dr. Charles H. Levermore was appointed head of the Academy. A graduate of Yale and John Hopkins Universities, Dr. Levermore was a professor of History at M.I.T. before coming to Adelphi Academy, where he served as Principal. His vision was to create a forward-thinking, high quality liberal arts education in Brooklyn. In 1896, his vision became a reality and Dr. Levermore became the first president of Adelphi College.
Adelphi was founded at a time when rapid advancements were being made in technology, education, and social justice. Its first students and faculty valued innovation and were dedicated to the issues of the time, as they continue to be today. In 1929, to support its growing student enrollment, Adelphi College separated from the Academy and relocated to Garden City, NY. For more information about Adelphi Academy and Adelphi University's common heritage, visit: adelphi.edu/about/history.php.
About Adelphi: A modern metropolitan university with a personalized approach to higher learning.
Adelphi University is a highly awarded, nationally ranked, powerfully connected doctoral research university offering exceptional liberal arts and sciences programs and professional training with particular strength in its Core Four—Arts and Humanities, STEM and Social Sciences, the Business and Education Professions, and Health and Wellness. Adelphi is dedicated to transforming students' lives through small classes, hands-on learning and innovative ways to support student success.
Founded in Brooklyn in 1896, Adelphi is Long Island's oldest private coeducational university. Today Adelphi serves nearly 8,000 students at its beautiful main campus in Garden City, New York—just 23 miles from New York City's cultural and internship opportunities—and at dynamic learning hubs in Manhattan, the Hudson Valley and Suffolk County, and online.
More than 100,000 Adelphi graduates have gained the skills to thrive professionally as active, caring citizens, making their mark on the University, their communities and the world.