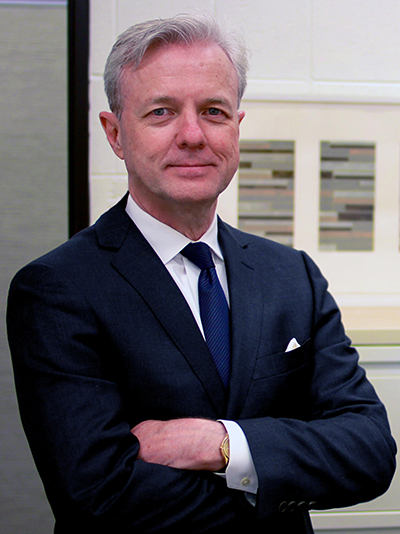 Adelphi University President Christine M. Riordan, Ph.D., has named Steve Everett, D.M.A.—the current dean of the University of Illinois at Chicago's College of Architecture, Design, and the Arts—as the University's next provost and executive vice president. His appointment as Adelphi's chief academic officer will be effective before July 1, 2018.
An accomplished composer, conductor and professor of music, Dr. Everett joined the University of Illinois at Chicago (UIC) in 2013 as dean overseeing four schools with numerous programs, the Gallery 400 art gallery, the renowned Jane Addams Hull-House Museum and the UIC Innovation Center—an interdisciplinary research center and incubation hub that bridges research and education with industry. Before UIC, he was at Emory University in Atlanta for 23 years, serving in numerous roles, including professor of music and assistant vice provost for academic affairs.
"Dr. Everett is a widely respected and extensively accomplished composer, conductor and professor of music whose accomplishments and initiatives are a powerful indicator of the innovation, leadership and world-class academics he will bring to the role of provost," said President Riordan. "I am confident that Dr. Everett will propel Adelphi University's eight esteemed colleges and professional schools, as well as the University Libraries, into the exciting future we have envisioned."
Dr. Everett's appointment follows a national search that included a visit to Adelphi's main campus in Garden City, New York, where he met with faculty, students, administrators, staff and trustees.
"Dr. Everett's outstanding qualifications and compelling ideas very quickly elevated him to the short list of our final candidates," President Riordan added. "After his visit with our campus community, we were convinced that Dr. Everett is the right fit for Adelphi's leadership—today and beyond."
At UIC, Dr. Everett developed innovative academic programs, expanded industry and university partnerships locally and globally, built pioneering instructional technology labs for exploring research and teaching strategies, and launched the College of Architecture, Design, and the Arts' first online and hybrid courses. At Emory, he co-chaired the university's Commission on the Liberal Arts, a task force created to explore innovative ways to enrich the liberal arts experience. In 1998, Dr. Everett received the Mayor's Fellowship in the Arts, awarded by the City of Atlanta, the city's highest recognition of artistic achievement.
After receiving his bachelor's degree at Florida State University, Dr. Everett earned two master's degrees there, in music theory and trumpet performance. He completed his doctorate in composition at the University of Illinois and has studied and held research residencies internationally, received numerous grants for his work, and published and presented widely in his academic field.
Dr. Everett succeeds Sam L Grogg, Ph.D., who has served as interim provost and executive vice president at Adelphi since July 2016.