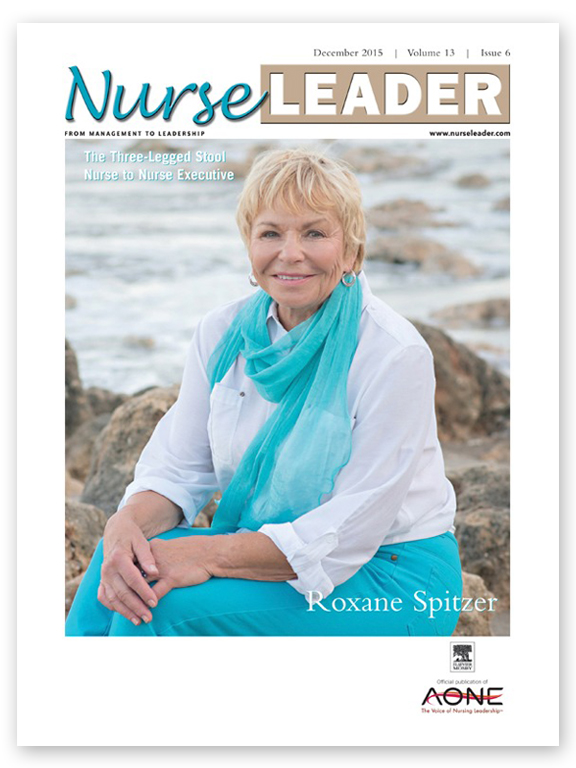 Roxane (Blumberg) Spitzer '60, Ph.D., was profiled as Nurse Leader's December 2015 Leader to Honor in a story marking her transition from the magazine's founding editor in chief since 2003 to editor in chief emeritus and contributing columnist.
In her cover story interview, Dr. Spitzer credited her mother with steering her toward earning a bachelor's degree in nursing at Adelphi University's School of Nursing—now the College of Nursing and Public Health. Dr. Spitzer also cited the importance of several mentors throughout her career. At Cedars-Sinai medical center in Los Angeles, she became the hospital's first female vice president. "With the backing of Cedars-Sinai, I earned an M.B.A. and a Ph.D. under the mentorship of Dr. Peter Drucker at Claremont [Graduate] University in California."
She achieved her goal of becoming a CEO at the Metropolitan Nashville Hospital Authority. "It was my M.B.A. and doctorate in executive management that brought me to the CEO position, and there I emphasized the importance of community involvement," she said.
Dr. Spitzer has also been featured in the College of Nursing and Public Health's Illuminations through the years and was the keynoter in 2013 at the ninth Annual Leadership Conference, cosponsored by Adelphi and Sigma Theta Tau's Alpha Omega Chapter.