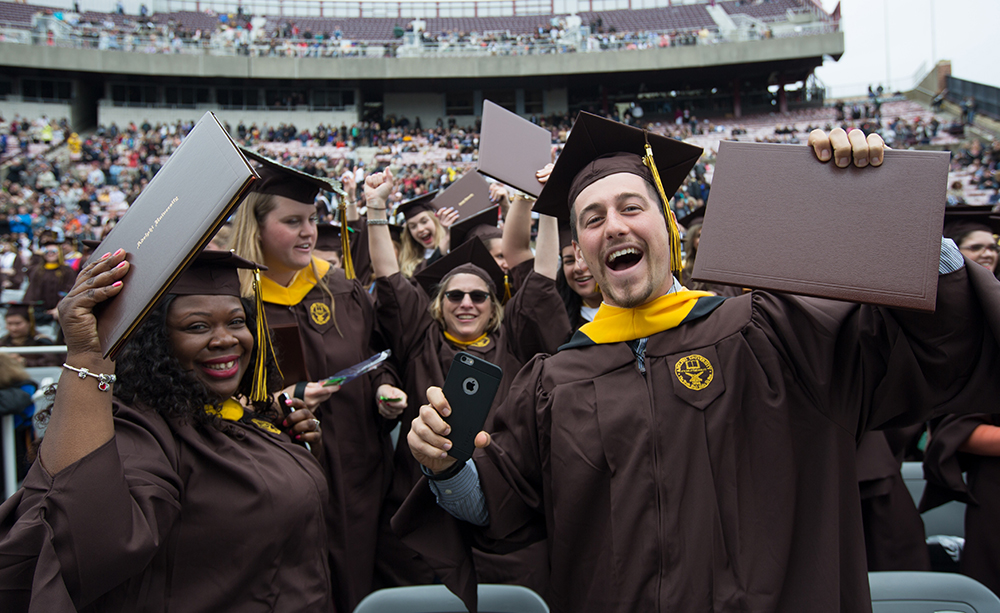 Rain failed to dampen the spirits of the thousands of graduates, their family members and guests at Adelphi's 120th Commencement, held for the first time at the Nikon at Jones Beach Theater on May 22, 2016. In addition to conferring degrees on 2,322 graduates at the bachelor's, master's and doctoral levels, Adelphi awarded honorary doctorates to Marian Wright Edelman, J.D., founder of president of the Children's Defense Fund, and alumna Jacqueline Woodson, author and winner of the 2014 National Book Award.     
Both Edeleman and Woodson urged the graduates to seek to change the status quo. 
"Any nation that fails to prepare most of its children for productive work and life must correct course now, and all of us must be a part of the solution," Edeleman said. "We have got to have a new movement and it has to be about giving every child a healthy and safe and educated passage to adulthood."
"You guys are young; you're amazing; you're beautiful; you're articulate; you have degrees and now you have the power to make the choice to go out and change the world," Woodson told the graduates. "So the question is not what you do with your life but what will you will change because you have that power to create change."
Senator Charles Schumer, who also attended the ceremony, drew cheers from the damp crowd when he tore up the speech he had prepared and simply said, "Congratulations to the Class of 2016."
Adelphi honored three alumni and friends with the Ruth Stratton Harley Distinguished Alumni Achievement Award: Horace G. McDonell, Jr. '52, '02 (Hon.) and his late wife Eileen and the late Mildred Clegg Ackerly '55, M.A. '76.
Newsday and FiOS1 News Long Island covered the event.
"I'm ready to be extraordinary in the world…Adelphi has prepared me for that," Peter J. Hraniotis '16 told Newsday. His plans for after graduation include working with The Meadow Dance Studio & Integral Healing Arts Center. 
Sophia King '16 a chemistry from Georgetown, Guyana who is about to pursue a Ph.D. in Chemistry at The University of California, Los Angeles, said that at Adelphi, "I got to do a lot of things that I could only dream of as a kid."
Taylor Groth '16 an All-American soccer player who received a B.A. in Psychology will return to Adelphi's Gordon F. Derner Institute of Advanced Psychological Studies for a Ph.D. in Clinical Psychology "Today is really just to show what I worked for and where I'm going," she told Newsday.
» Watch the FiOs1 News coverage.
» See Newsday's article and photo gallery.
» See the 2016 Commencement Ceremony photo gallery.