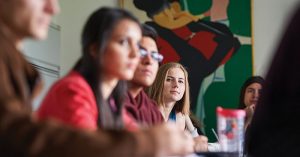 There's never been a better time to become a teacher, according to Patrice Armstrong- Leach, assistant dean at Adelphi's Ruth S. Ammon School of Education.
In the wake of mass retirements among teachers in New York City school districts— caused by the ratification of a new contract in 2014 by the United Federation of Teachers union, which offered better incentives to teachers on the cusp of retirement—there will be significant vacancies in coming years, she explained.
For incoming and transfer students, the benefit of pursuing teacher training at Adelphi is especially strong. The University's relationship with the city's Department of Education (NYCDOE) is closer than ever, and recent graduates receive prime placements in every borough, often leading to permanent hires. Corinne Donovan, Ph.D., the Ammon School's assistant dean of research evaluation, added that surveys of Adelphi alumni show that 80 percent of graduates are hired within six months of graduation; similarly, a report prepared by the Department of Education revealed that more than half of recent Ammon School graduates were immediately hired into the NYCDOE system in 2015.
Long story short, Armstrong-Leach said, "Not only do our teachers get hired at a higher rate, but they're also retained at a higher rate."
Adelphi's Ammon School of Education provides students with quality training that gives them a leg up in this competitive arena. In addition to classroom practice and field placement in diverse settings, students receive hands-on instruction from expert faculty. "Our graduates have the requisite skills to fill the shortage need areas [in the public school system]," Dr. Donovan said.
Professional teacher education at Adelphi is a smart move for transfer students in particular. The Scholar Teacher Education Program (STEP) for those preparing to teach at the childhood or adolescent grade levels—or in K–12 Teaching English to Speakers of Other Languages (TESOL) programs—allows students to complete their bachelor's and master's degrees in record time. Dr. Donovan noted that transfers in STEP can even emerge with two certifications, for example, one in childhood education and another in special education, which qualifies them to teach a wider range of classes.
Transfer students can also expect a learning environment that caters to their unique needs, said Daryl Gordon, Ph.D., the Ammon School's associate dean. "It's intimate enough that it provides transfer students with a lot of support in all the parts of becoming a teacher, from small class sizes to comprehensive support in the certification process, which can be really confusing."