Scott Dimig '06 started at Epic Records as an intern his freshman year at Adelphi. Today he is Epic's national director, top 40 and dance promotion, responsible for the radio promotions of Epic artists nationwide. He works with more than 80 radio stations across the country to get his artists on the air. Last year he flew 300,000 miles, had 174 hotel stays, and attended more than 75 performances. "My life is like the movie Up in the Air meets Almost Famous," he said.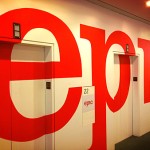 A Day in the Life of Scott Dimig '06
Click the image to view the gallery
View photos of Adelphi alum Scott Dimig '06 with musical artists Karmin, Kat Dahlia, John Hart, Natasha Bedingfield, The Script, Sara Bareilles, Cher Lloyd, Sean Kingston and Ozzy Osbourne.
---
So what exactly does a typical day in the life of Scott Dimig look like?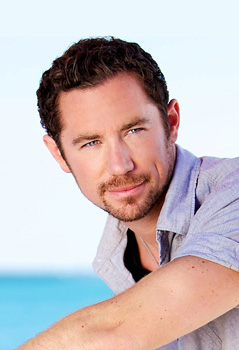 8:00 p.m. – "My day starts the night before," said Mr. Dimig, who packs for a week of traveling to multiple cities. In his backpack is his iPad—"I'm an Apple freak"—and JAMBOX. "You don't want to play music on a bad stereo system, so I bring my JAMBOX to play the music at the station." What's in his suitcase? "Lots of black V-neck t-shirts and button down shirts, a sports jacket, and ear plugs. My hearing is important!"
12:00 a.m. – Bedtime.
4:00 a.m. – Alarm goes off. The minute he wakes up he starts responding to emails.
4:30 a.m. – Hops out of the shower and checks through all of his broadcast data systems and media base reports, which monitor the airplay of radio stations across the country. "I can see how many times Y100 Miami or any other monitored station in the country has played Avril Lavigne, The Script, or any of our other records." 
5:00 a.m. – Drives to Miami International Airport, checks in with Delta, and starts working from his iPad. Before he boards the plane, he sends out the reports he created to the Epic promotions team with highlights or issues that need to be addressed. 
6:00 a.m. – Plane takes off. He continues to work from the plane's Wi-Fi.

7:50 a.m. – Arrives in Atlanta, Georgia and rents a car from Hertz. He's on the road—heading off to three or four different stations for meetings.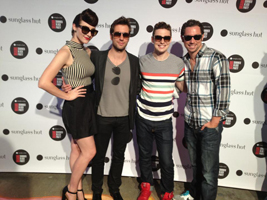 Karmin and Scott Dimig
8:45 a.m. – Waiting for first meeting, he's on his iPhone handling emails. "From the minute I wake up to the time I go to sleep I'm sending or receiving over 1000 emails," he said. "I work with 80 radio stations across the country. You really have to send that many emails to keep in touch. It's crazy!"
9:00 a.m. – Meets with program and music directors at the first station. He plays the new Avril Lavigne track, and talks to them about upcoming tracks from Karmin and other Epic artists.
10:30 a.m. – Meeting ends, he sends out a few more emails, and checks Facebook before driving to the next radio station.
10:45 a.m. – Arrives at next station and plays new tracks by Fifth Harmony and Chris Brown, and plays music from A Great Big World.

12:00 p.m. – Back in the car to drive to Chattanooga, Tennessee and tunes into the local stations. "I'm always listening to the terrestrial radio in the city I'm in to get the sound of the station before I arrive at the meeting. I want to prepare myself."
1:15 p.m. – He checks in to see which Pop/Dance Mixshow DJs are spinning the current remixes of Epic's records and finds out how their records are looking on the Billboard Club Charts.
2:35 p.m. – Arrives in Chattanooga, uploads pictures to Instagram and updates status on Facebook.
2:45 p.m. – Meets with third radio station of the day. "To be in this business, you need to be a people person," said Mr. Dimig, who plays the station's directors songs by artists Sara Bareilles, The Script, Cher Lloyd, and Kat Dahlia.

3:50 p.m. – Gets back on the road and hooks up his iPhone to the car to listen to his iHeartRADIO app. "You can listen to stations across the whole country with iHeartRADIO," he said.
5:50 p.m. – Enters Nashville, Tennessee. "Sometimes I drive 600 plus miles a day!"
6:30 p.m. – Arrives at the Bridgestone Arena for a concert with The Fray, who will perform for 17,000 people.
8:11 p.m. – Enjoying the show. "At the end of the night, it seems like it's been a crazy day. But when you get to a venue and see thousands of screaming fans singing your artist's songs at the top of their lungs, that makes it all worth it…I still get chills seeing that, and knowing that I'm one of the people who helped break that artist." 
9:02 p.m. – Tweets: 
10:34 p.m. – He is backstage with the band. He introduces The Fray to radio listeners who won a contest on air to meet the band. They take photos together.
12:00 a.m. – Arrives in hotel. Sends out final emails for the night. Sets alarm for 5:00 am to get to the gym for a run and lift. "If I'm lucky, I get a few hours of sleep every night," he said. "I won't stop until I'm at the top. The music is the motive. I love what I do".

---
Scott Dimig is a member of Adelphi University's 10 Under 10.
About Adelphi: A modern metropolitan university with a personalized approach to higher learning.
Adelphi University is a highly awarded, nationally ranked, powerfully connected doctoral research university offering exceptional liberal arts and sciences programs and professional training with particular strength in its Core Four—Arts and Humanities, STEM and Social Sciences, the Business and Education Professions, and Health and Wellness. Adelphi is dedicated to transforming students' lives through small classes, hands-on learning and innovative ways to support student success.
Founded in Brooklyn in 1896, Adelphi is Long Island's oldest private coeducational university. Today Adelphi serves nearly 8,000 students at its beautiful main campus in Garden City, New York—just 23 miles from New York City's cultural and internship opportunities—and at dynamic learning hubs in Manhattan, the Hudson Valley and Suffolk County, and online.
More than 100,000 Adelphi graduates have gained the skills to thrive professionally as active, caring citizens, making their mark on the University, their communities and the world.