Brendan Michel '10 is pursuing an M.D. at the University of North Carolina School of Medicine. Joseph Alagna is heading to Philadelphia College of Osteopathic Medicine this summer. And current student Annie Wong hopes to attend physical therapy school.
While they all share a desire to work in medicine, they have also taken a similar path to achieve their goals—each chose the Certificate in Basic Sciences for Health Professions offered by University College. The post-baccalaureate program has served as a means for students to fast-track their studies, and its alumni have reaped the rewards—12 alums having been accepted into medical school.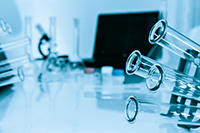 "The Certificate program in Basic Sciences for Health Professions has been very successful in helping program alumni achieve their dreams of enrolling in medical school," Dean Shawn O'Riley, Ed.D., said. "Every single successful graduate of the program has been admitted to medical school. We now have Adelphi program alums studying at Florida, North Carolina and Wake Forest medical schools. We believe the combination of excellent instruction, personalized student service and clinical internship opportunities makes the Basic Sciences for Health Professions certificate a terrific choice for future clinicians."
Flexibility, like in many of University College's programs, remains one of the program's most attractive qualities. It certainly helped Mr. Alagna as he navigated working as a full-time nurse and prepared for the Medical College Admissions Test (MCAT).
"It lived up to its expectations," said Mr. Alagna, who took summer courses to expedite the program, finishing in just a year. "University College is really invested in what students do. They provide a lot of resources.
"The program is flexible and can work for somebody who has kids or a job or whatever. You can make it work."
It also worked for Mr. Michel, who entered Adelphi with an engineering degree from Rensselaer Polytechnic Institute. He wanted to complement his bachelor's while looking for an affordable way to complete medical school prerequisites.
"It not only had the characteristics of the post-baccalaureate program I was looking for, but it also had a science department with a good reputation," said Mr. Michel, a resident student from North Carolina.
Ms. Wong, on the other hand, finds the program as a great way to polish her science skills and hone in on her next venture. She's applying to physical therapy schools in the New York City area and Pittsburgh.
"I wanted to show the physical therapy schools that I can handle a rigorous science curriculum," she said. "Adelphi was one of the programs that had the science certificate. Some other schools don't provide the support to learn the material."
The Certificate in Basic Sciences for Health Professions is just one of University College's successful stable of programs. To learn more about UC's offerings, view our
program page
.
About Adelphi: A modern metropolitan university with a personalized approach to higher learning.
Adelphi University is a highly awarded, nationally ranked, powerfully connected doctoral research university offering exceptional liberal arts and sciences programs and professional training with particular strength in its Core Four—Arts and Humanities, STEM and Social Sciences, the Business and Education Professions, and Health and Wellness. Adelphi is dedicated to transforming students' lives through small classes, hands-on learning and innovative ways to support student success.
Founded in Brooklyn in 1896, Adelphi is Long Island's oldest private coeducational university. Today Adelphi serves nearly 8,000 students at its beautiful main campus in Garden City, New York—just 23 miles from New York City's cultural and internship opportunities—and at dynamic learning hubs in Manhattan, the Hudson Valley and Suffolk County, and online.
More than 100,000 Adelphi graduates have gained the skills to thrive professionally as active, caring citizens, making their mark on the University, their communities and the world.