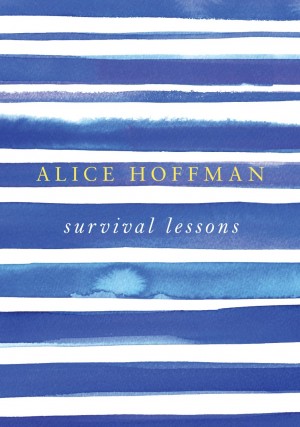 Adelphi University and the Adelphi NY Statewide Breast Cancer Hotline & Support Program used October 2013 to launch a monthlong breast cancer awareness campaign—one of the first of its kind among institutions of higher education. It is also a great time to recognize one of the University's most celebrated alumni, author Alice Hoffman '73, on her new publication inspired by her battle with the disease.
Ms. Hoffman, who, since graduating from Adelphi, has become one of the country's best-known authors, said her latest work, Survival Lessons, began as a way to keep herself from a "dark place" while battling breast cancer. Diagnosed at age 45, the Long Island native found it was very easy to get lost in the disease so she wrote short stories and notes as a way to remind herself of a happier past and better days to come.
"When you get a diagnosis of breast cancer, the world stops; it's a trauma," she said. Being diagnosed at the same time as her mother made the experience even more traumatic for her.
"I used to sit at the window with my dog," Ms. Hoffman said about the ways she would make herself happy on the seemingly endless bleak days. She would record her thoughts, and her collection of short pieces grew into what is now a 96-page keepsake that any reader can relate to.
In the preface of the book, Ms. Hoffman writes: "Fifteen years after being diagnosed with cancer, I've become something I never imagined I'd be. I'm a survivor."
"We all experience trauma, and we all take a very personal path to healing on our own terms. But we're also alike in what we need most. Love really is the answer."
That love Ms. Hoffman speaks of came from many places including talking to strangers who had battled the disease. "I called friends of friends who were survivors, and talking to these strangers was the most important thing for me," she said. "Just the fact that they existed and had gone through it and made it to the other side was huge."
Talking with strangers who've been there is exactly what Ms. Hoffman feels is so great about the Adelphi NY Statewide Breast Cancer Hotline & Support Program. The hotline offers the opportunity to speak with a volunteer who is also a survivor. "You feel very alone during these times, and it's very hard to talk to someone who is not in a similar situation for a while," she said. "What the Adelphi [hotline] is doing is so important for those diagnosed and their families… . There is not enough support [out there]. I wish it was everywhere."
Survival Lessons, offers hope in simple, small, everyday things. "This is the book I wish I had to read when I was sick," Ms. Hoffman added. The book has been named by Oprah Winfrey's O Magazine as one of the "books to pick up this fall" and is a "hot book" on iBooks and one of its Top 10 Best of October. Join her on Facebook at Alice Hoffman Survival Lessons. The page features excerpts from the book, stories of healing and hope, plus a great recipe for brownies which are essential for a survival kit, said the author.
Ms. Hoffman is the author of The Dovekeepers, Practical Magic, Here on Earth, and the upcoming  Museum of Extraordinary Things (February 2014) as well as several other novels.
About Adelphi: A modern metropolitan university with a personalized approach to higher learning.
Adelphi University is a highly awarded, nationally ranked, powerfully connected doctoral research university offering exceptional liberal arts and sciences programs and professional training with particular strength in its Core Four—Arts and Humanities, STEM and Social Sciences, the Business and Education Professions, and Health and Wellness. Adelphi is dedicated to transforming students' lives through small classes, hands-on learning and innovative ways to support student success.
Founded in Brooklyn in 1896, Adelphi is Long Island's oldest private coeducational university. Today Adelphi serves nearly 8,000 students at its beautiful main campus in Garden City, New York—just 23 miles from New York City's cultural and internship opportunities—and at dynamic learning hubs in Manhattan, the Hudson Valley and Suffolk County, and online.
More than 100,000 Adelphi graduates have gained the skills to thrive professionally as active, caring citizens, making their mark on the University, their communities and the world.