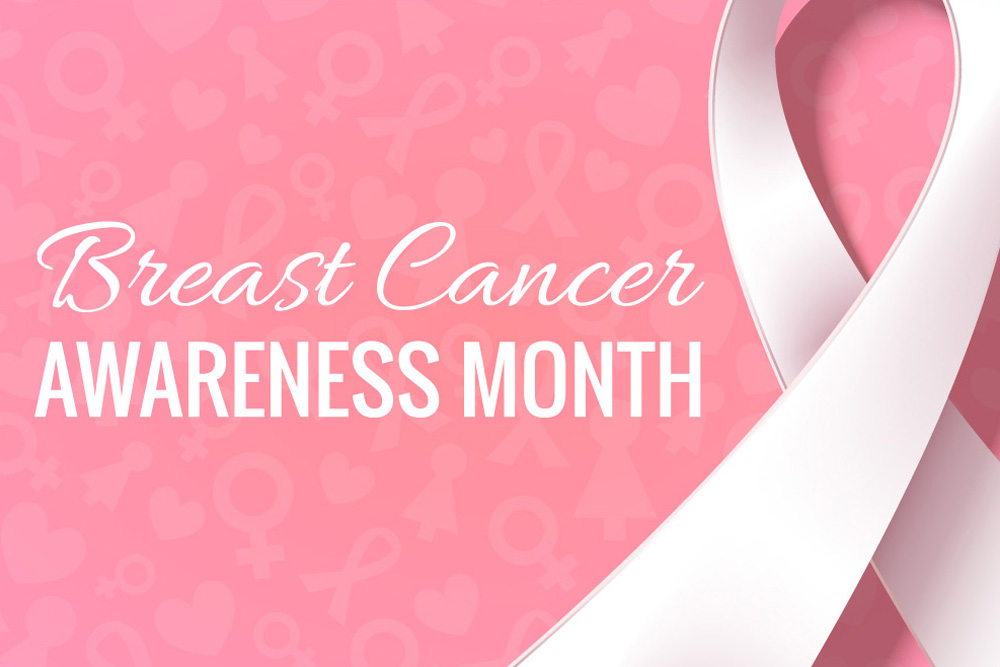 Have you noticed the pink pinwheels dotting our campus? They're a reminder that October is Breast Cancer Awareness Month and that Adelphi is home to the Adelphi NY Statewide Breast Cancer Hotline & Support Program, which is hosted by the School of Social Work. For more than 30 years, the program has offered emotional support and information to women—and men—diagnosed with breast cancer, offering hope and the comfort that "We are here. You are not alone."
The message of the hotline's October outreach campaign is "Knowledge Is Your Superpower." Hillary Rutter, director of the free hotline, said, "Our program can help people find out how to get a free or low-cost mammogram, learn about breast cancer programs in their community and talk to a breast cancer survivor on the hotline."
For the nine days from October 15 to October 23, the Campus Recreation department is partnering with the Adelphi NY Statewide Breast Cancer Hotline & Support Program for Breast Cancer Awareness Week.
"Our vision for our collaboration is to spread awareness about breast cancer but also to inform others not just on campus but in our community about everything the breast cancer hotline has to offer," said Nicolette Tortorici, graduate assistant for Campus Recreation. "We are so fortunate to have a program like this on our campus and we believe that more students, faculty and staff should take advantage of the breast cancer hotline."
The recreation staff will host tables offering brochures, information and small giveaways donated by the hotline.
"Our staff will be sporting pink sweatbands all week, and we invite students, faculty and staff to sign their name on a pink ribbon that will be displayed, and for our group fitness participants and sport club members to wear pink during that week of activities, " added Tortorici.
A Celebration of Survivorship
A highlight of the week—and the month of October—takes place on October 18, when the Adelphi NY Statewide Breast Cancer Hotline & Support Program will host its annual Celebration of Survivorship. Four speakers will be featured: Geralyn Lucas, an award-winning journalist and author of Why I Wore Lipstick to My Mastectomy; Jamaican-born Sonia Avery-Williams, a nurse; Susan Leach, a former support group member and manager at a healthcare agency; and Jeff Flynn, a former support group member and currently a hotline volunteer responding to calls from men concerned about breast cancer. The breast cancer organization Kat's Ribbon of Hope will also be honored.
Support the Cause While Treating Yourself
Long Island merchants are lending their support to the Adelphi Breast Cancer Hotline and Breast Cancer Awareness Month by donating a percentage of sales to the program.
Fortunoff Fine Jewelry in Westbury Plaza is offering its Power of Pink collection of pink-hued jewelry that includes numerous items such as rose gold bracelets, pink-toned pearls and pink crystal earrings, with 20 percent of proceeds being donated to the program.
Spuntino Wine Bar & Italian Tapas, also in Westbury Plaza, is donating a dollar for every glass of pink-toned drinks such as Brezette rosé, Wolffer rosé and Rosé Sangria.
Sir John's Beauty Salon in West Babylon's raffle of a basket of hair styling products valued at $125 will benefit the hotline. Tickets can be purchased at the salon.
Awarded in October
The month began with the good news that the New York State Senate Health Committee, under the chairmanship of Sen. Kemp Hannon, awarded the program with a $200,000 Breast Education Screening and Treatment (BEST) grant. The funds will enable the program to address disparities, increase access to quality care and improve outcomes for Long Island's most at-risk communities: African American women, Latinas, undocumented immigrants and other medically underserved populations over 40.
Of course, the hotline's efforts and events continue past October. In November, the program hosts its third annual bowling fundraiser, Let's Glow Bowling, on Saturday, November 3, and the Americana Manhasset Champions for Charity from November 29 to December 2.
About Adelphi: A modern metropolitan university with a personalized approach to higher learning.
Adelphi University is a highly awarded, nationally ranked, powerfully connected doctoral research university offering exceptional liberal arts and sciences programs and professional training with particular strength in its Core Four—Arts and Humanities, STEM and Social Sciences, the Business and Education Professions, and Health and Wellness. Adelphi is dedicated to transforming students' lives through small classes, hands-on learning and innovative ways to support student success.
Founded in Brooklyn in 1896, Adelphi is Long Island's oldest private coeducational university. Today Adelphi serves nearly 8,000 students at its beautiful main campus in Garden City, New York—just 23 miles from New York City's cultural and internship opportunities—and at dynamic learning hubs in Manhattan, the Hudson Valley and Suffolk County, and online.
More than 115,000 Adelphi graduates have gained the skills to thrive professionally as active, caring citizens, making their mark on the University, their communities and the world.