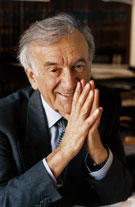 Adelphi University announced that tickets have gone on sale for the exclusive program, "An Evening with Elie Wiesel". The event with the Nobel Peace Prize-winning Holocaust survivor, author, and activist will take place on Wednesday, April 14, 2010, at 7:00 p.m. in the University's state-of-the-art Center for Recreation and Sports, 1 South Avenue, Garden City, NY. The 1986 Nobel Committee called Mr. Wiesel a "messenger to mankind," and he will bring his powerful words of peace, atonement, and humanity to Adelphi. Inspiring and engaging, his life story is one to be heard. His acclaimed book, Night (La Nuit), will be available for purchase at the event. The event is sponsored by the William E. Simon Lecture in American Civilization and Values Endowment.
Mr. Wiesel has worked on behalf of oppressed people for much of his adult life. His personal experience of the Holocaust has led him to use his talents as an author, teacher, and storyteller to defend human rights and peace throughout the world. He was born in 1928 in Transylvania, and he was only 15 years old when the Nazis deported him and his family to Auschwitz. After the war, Mr. Wiesel studied in Paris and later became a journalist. As a result, he was inspired to write about his experiences in the death camps in the internationally acclaimed memoir, Night (La Nuit). Since its publication in 1956 in Yiddish and in 1958 in French, it has been translated into more than 30 languages and millions of copies have been sold. He is the author of 36 works dealing with Judaism, the Holocaust, and the moral responsibility of all people to fight hatred, racism, and genocide. In 2006, Farrar, Straus and Giroux published a new English-language edition of Night (La Nuit) featuring a new translation by his wife Marion Wiesel.
In 1978, President Jimmy Carter appointed Mr. Wiesel as chairman of the President's Commission on the Holocaust. In 1980, he became the founding chairman of the United States Holocaust Memorial Council. He is the chairman of The Elie Wiesel Foundation for Humanity, an organization he and his wife created. The Foundation's mission, rooted in the memory of the Holocaust, is to combat indifference, intolerance, and injustice through international dialogue and youth-focused programs that promote acceptance, understanding, and equality. The Foundation runs multiple programs both domestically and internationally. He has dedicated his life to ensuring that none of us forget what happened to the Jewish people.
Mr. Wiesel's literary and human rights contributions have earned him numerous awards including the United States Congressional Gold Medal (1985); the Medal of Liberty Award (1986); the Presidential Medal of Freedom (1992); the rank of Grand-Croix in the French Legion of Honor (2001); an honorary Knighthood of the British Empire awarded by Her Majesty, the Queen (2006); and the Nobel Peace Prize (1986). He has received more than 120 honorary degrees from institutions of higher learning in the United States, Europe, and Israel.
The endowment of the William E. Simon Lecture in American Civilization and Values is indicative of Mr. Simon's dedication to educational excellence and civic responsibility. The generous gift to Adelphi created a preeminent forum for world leaders who exemplify a commitment to the culture and beliefs that have shaped America.
This event is SOLD OUT.
Once paid for, all tickets are final sale. No refunds, no exchanges.
About Adelphi: A modern metropolitan university with a personalized approach to higher learning.
Adelphi University is a highly awarded, nationally ranked, powerfully connected doctoral research university offering exceptional liberal arts and sciences programs and professional training with particular strength in its Core Four—Arts and Humanities, STEM and Social Sciences, the Business and Education Professions, and Health and Wellness. Adelphi is dedicated to transforming students' lives through small classes, hands-on learning and innovative ways to support student success.
Founded in Brooklyn in 1896, Adelphi is Long Island's oldest private coeducational university. Today Adelphi serves nearly 8,000 students at its beautiful main campus in Garden City, New York—just 23 miles from New York City's cultural and internship opportunities—and at dynamic learning hubs in Manhattan, the Hudson Valley and Suffolk County, and online.
More than 100,000 Adelphi graduates have gained the skills to thrive professionally as active, caring citizens, making their mark on the University, their communities and the world.