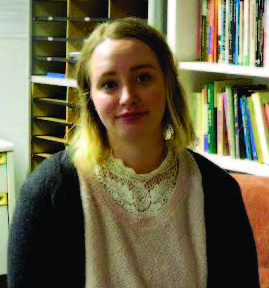 by Rebecca Endres '15

Once upon a time, there was a girl who loved fairy tales and wanted to be a teacher. As a young adult, that girl became an adjunct professor at Adelphi, where her courses include Fairy Tales, Folktales and Their Contemporary Counterparts.
Following her graduation, Arli Middendorf '11, M.F.A. '13, was given the opportunity to propose and teach the topic as a first-year seminar in Adelphi's Department of English. In that seminar, which she calls her brainchild, she teaches students to be more inquisitive and to recognize how much fairy tales have permeated pop culture.
She said, "Teaching is something I always thought I was interested in. Going into education was natural for me. And the M.F.A. program offers you the opportunity to teach [as a graduate assistant]. That way I could test 'Is this something I enjoy, is this something I'm good at?'"
Her freshman students are exposed to a number of tales—from the Brothers Grimm and others—to analyze the stories' darker undertones. She describes most of her students as "really excited by the discovery of what fairy tales are supposed to be versus what they've grown up believing."
Prime-time TV series like ABC's Once Upon a Time and NBC's Grimm, and movies, including Frozen and several live-action Snow White productions, have brought fairy tales into the limelight in recent years.
However, Middendorf feels that fairy tales have never gone out of style and that many figures in pop culture—from DC Comics to Disney—are modernized versions of the heroes that we read about as children.
Middendorf, who also teaches introductory English courses, said, "We're obsessed with fairy tales because they deal with struggles that we haven't solved yet. Fairy tales are at heart about maturing—growing up and exploring identity. I think that's something our generation of young people today are always struggling with, trying to catch up with the influences of technology, the heartbreaking social difficulties that we're battling."
Transferring to Adelphi from Suffolk County Community College was an easy choice for Middendorf, an English major attracted to the prestige of Adelphi's English department. "I also looked up some of the alumni from Adelphi," she said. "Alice Hoffman is one of my favorite novelists. When I saw she was an alumna, it pretty much sealed the deal for me."
This piece appeared in the 
Spring 2016 Transfer Students Newsletter.
About Adelphi: A modern metropolitan university with a personalized approach to higher learning.
Adelphi University is a highly awarded, nationally ranked, powerfully connected doctoral research university offering exceptional liberal arts and sciences programs and professional training with particular strength in its Core Four—Arts and Humanities, STEM and Social Sciences, the Business and Education Professions, and Health and Wellness. Adelphi is dedicated to transforming students' lives through small classes, hands-on learning and innovative ways to support student success.
Founded in Brooklyn in 1896, Adelphi is Long Island's oldest private coeducational university. Today Adelphi serves nearly 8,000 students at its beautiful main campus in Garden City, New York—just 23 miles from New York City's cultural and internship opportunities—and at dynamic learning hubs in Manhattan, the Hudson Valley and Suffolk County, and online.
More than 100,000 Adelphi graduates have gained the skills to thrive professionally as active, caring citizens, making their mark on the University, their communities and the world.