By Susanna Novick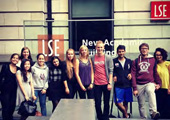 Studying abroad this summer truly changed my life. I had the pleasure this summer to visit England, France, and Israel for a combined total of three months. In this short time period, I truly found myself as I began my journey and pursuit of becoming a global citizen, and discovering what that truly means to me. My journey began in Israel where I had the opportunity to go to the Dead Sea, spend a night in a tent hosted by the Bedouin tribes of the Negev desert, ride a camel, spend time on a Kibbutz, take part in an archeological dig, and participate in a service trip picking beets on a farm that feeds hundreds of hungry families and children throughout Israel.
Just being in Israel, you could feel the spirituality, faith, and allegiance to the land. Seeing the religious significance and the sites of several religions and how their stories and faiths intertwine was absolutely mind-boggling. I could not help but be fascinated by all the aspects of Israeli society and the diversity within it, which I had never really expected. I had the rare opportunity to be hosted by the indigenous Bedouin tribe of the Negev desert in the south of Israel close to Egypt. I got to spend the night in a beautiful Bedouin tent in the middle of the desert. They were extremely hospitable and cooked a traditional Bedouin dinner for us, and we sat on the floor and got to learn about their special culture and way of life. Their native language is Arabic, and their ancestors had lived peacefully on the land for thousands of years. I ended the trip having met so many wonderful people and was even able to attend a traditional Israeli wedding and henna party. I am truly committed to eventually learning both Hebrew and Arabic as a result of this trip, as they are two languages that are key to truly understanding and working in the region. Getting a closer look and examining the cultures and politics within the region strengthened my already strong interest in Middle Eastern politics, affairs, and culture.
A week into my time in London, I started my International Human Rights Law course at the London School of Economics. It was an enriching academic experience that helped further shape my decision to go into human rights law after I graduate. Not only did I learn so much from their amazing program, but from the students around me. I made friends from so many different countries—we were all of different ages, backgrounds and cultures; I had only met one other American. I loved being out of my element, not knowing what I was going to see, find, do, meet, or learn next.
In London, there are so many markets, attractions, parks, architectural landmarks, and an amazing underground art, fashion, and food scene. London has the perfect combination of diversity, art, history, culture, and modernity. I found myself always walking and finding new routes so that I never missed anything. The architectural style of the historical buildings, aristocratic residences, castles, churches, and bridges make you feel like you have entered another world or time. Jane Austen is one of my favorite writers if all time, so it was really amazing to get to explore her hometown, Bath, England. It was truly awe-inspiring, and they even let us try on outfits and accessories from the time period, which meant a lot to me as a British literature and history buff. After London, I got to spend two days in France before my flight home. It was absolutely beautiful. The culture, the food, and the language had me entranced. I cannot wait to go back and continue my international studies.
About Adelphi: A modern metropolitan university with a personalized approach to higher learning.
Adelphi University is a highly awarded, nationally ranked, powerfully connected doctoral research university offering exceptional liberal arts and sciences programs and professional training with particular strength in its Core Four—Arts and Humanities, STEM and Social Sciences, the Business and Education Professions, and Health and Wellness. Adelphi is dedicated to transforming students' lives through small classes, hands-on learning and innovative ways to support student success.
Founded in Brooklyn in 1896, Adelphi is Long Island's oldest private coeducational university. Today Adelphi serves nearly 8,000 students at its beautiful main campus in Garden City, New York—just 23 miles from New York City's cultural and internship opportunities—and at dynamic learning hubs in Manhattan, the Hudson Valley and Suffolk County, and online.
More than 100,000 Adelphi graduates have gained the skills to thrive professionally as active, caring citizens, making their mark on the University, their communities and the world.