by Jordan Chapman
Adelphi students, faculty and staff had the chance to meet Robert Catell '99 (Hon.), retired chair and CEO of the KeySpan Corporation, in late February, during the most recent Hagedorn Lecture on Corporate Social Responsibility.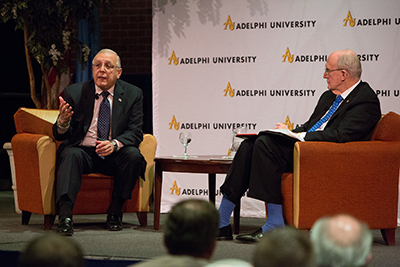 Robert Catell '99 (Hon.), left, speaks to an Adelphi audience about energy independence and sustainability.

Mr. Catell and Adelphi President Robert A. Scott sat on stage before attendees and discussed energy independence and sustainability globally, nationally and regionally along with Adelphi's role in these efforts.
What is energy independence? What are the challenges of creating sustainable renewable energy? What is Long Island's energy policy? What can people do to help energy conservation? All of these questions and more were asked during the informative roundtable discussion, with many answers—this time—pointing to natural gas.
Mr. Catell, who was recently named the inaugural John J. Phelan, Jr. Fellow, is an accomplished global energy industry leader with a long career dealing in natural gas energies.
"We've found through [improved] technology that there is a lot more oil and gas [in the United States] that is now recoverable than we ever thought we had," Mr. Catell said, explaining the term "peak oil" and why the fear of running out of fossil fuels has dissipated due to the emergence of more powerful technology that better detects fuels underground. "We believe that we have enough natural gas in this country to supply our needs for 100 years," he said.
More natural gas within our own borders means less dependency on imported oil, the phasing out of coal, fewer emissions and the reemergence of factories in the United States that can export natural gas.
"While years ago our imports of oil were going up to 70 percent, we're now down to 40 percent. We're now producing more natural gas in this country than any other country in the world," Mr. Catell said. "By using more natural gas and phasing out coal, we've reduced CO2 emissions in the United States back to 1994 levels," he continued, admitting that natural gas is a fossil fuel, but a fossil fuel that has the least amount of emissions of any.
Why not renewable energy?
Mr. Catell noted the economic and infrastructure challenges that can hinder renewable energy technologies taking root in the United States.  
"We, as a nation, are really not attuned to efficiency…we are a bit spoiled. We like our big cars, we like all the things electricity brings to us, so we don't do as much with efficiency as we should," Mr. Catell said. "It starts with us as a people. The things we are used to: gasoline, automobiles and natural gas in our homes for heating and cooking. They all come very easy to us," he said, while renewable energies are difficult because they must be subsidized until they can become economically viable.
He has an idea, though.
"We have a tremendous abundance of natural gas. Prices are very low. I think it could be very beneficial if we could get the public policy [makers] to put a slight surcharge on the natural gas. That money could be used to fund renewables, new technologies and the research and development that's going to be needed," he said.
To do such a thing, political leaders need to have the courage to advocate for such an option.
Aside from petitioning politicians, everyone at Adelphi can help in small ways to achieve energy sustainability.
"It starts with educating people…A lot can be done by turning off the lights, turning off the computers. Every megawatt you save…has a beneficial impact on the environment," Mr. Catell said.
About Adelphi: A modern metropolitan university with a personalized approach to higher learning.
Adelphi University is a highly awarded, nationally ranked, powerfully connected doctoral research university offering exceptional liberal arts and sciences programs and professional training with particular strength in its Core Four—Arts and Humanities, STEM and Social Sciences, the Business and Education Professions, and Health and Wellness. Adelphi is dedicated to transforming students' lives through small classes, hands-on learning and innovative ways to support student success.
Founded in Brooklyn in 1896, Adelphi is Long Island's oldest private coeducational university. Today Adelphi serves nearly 8,000 students at its beautiful main campus in Garden City, New York—just 23 miles from New York City's cultural and internship opportunities—and at dynamic learning hubs in Manhattan, the Hudson Valley and Suffolk County, and online.
More than 100,000 Adelphi graduates have gained the skills to thrive professionally as active, caring citizens, making their mark on the University, their communities and the world.