by Ela Schwartz
Laura Zappia '12, M.S.W. '13, is not someone to let obstacles stand in her way when it comes to taking on the challenges of becoming a social worker. While attending Nassau Community College, she researched the Adelphi undergraduate social work program, visited the campus and "fell in love with Adelphi," she said. "The classes were the perfect size; the atmosphere was engaging and comfortable. It was just what I needed."
Enter obstacle No. 1—money. Like many other students, Ms. Zappia was on her own when paying for college. Luckily, she found "a great financial adviser at Adelphi," she said, "who helped me work out any financial aid I (was entitled to) and student loans I needed."
Throughout her undergraduate and graduate studies, Ms. Zappia participated in an array of field placements, including the Leadership Training Institute, EAC Network, Meals On Wheels, the Rockville Centre school district and the Long Island Council on Alcoholism and Drug Dependence (LICADD). "Through these very different placements, I was able to see and experience what social work is all about," she said. 
Even while being immersed in her studies and internships—and holding down a part-time job—she dreamed of practicing her social work skills abroad. After graduation, she met obstacle No. 2—pressure to find full-time employment as a social worker. But Ms. Zappia decided to stick to her guns and make her overseas experience happen. She began researching volunteer abroad opportunities and learned about International Volunteer HQ. 
Time for that financial obstacle to raise its head yet again. "It's interesting how expensive it can be to volunteer abroad," she said. But she created a fundraising website and raised money to help offset expenses.
Ms. Zappia chose to go to Guatemala to work with children and adolescents. In addition to an interest in learning the culture and language, she has "two beautiful and amazing cousins who were adopted as babies from Guatemala." She was placed at Proyecto Genesis, a program for children who come from families who cannot afford to provide them with an education and who struggle to put nutritious food on the table. In addition to teaching English and academics, volunteers provide the children with vitamins and nutritional supplements and teach them about hygiene and healthy living, she explained.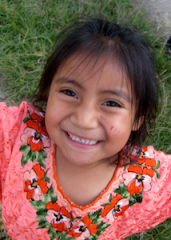 Due to some family problems at home, Ms. Zappia had to cut her trip a little short, to about a week. But, she said, "The time I spent there was amazing, and I plan to go back within the next couple of years." She said she will always remember the experience of being in Guatemala, the friendships she made and, most of all, the children: "their positive outlook on life and the happiness they bring to everyone around them." 
For now, she's focusing on passing her licensing exam. "Social work gives me the opportunity to work with a variety of individuals, groups and populations and to make a difference. I have learned the importance of doing something you love, and that, for me, is to help others and to give everyone a chance."