by Stephen Levine
For a registered nurse like Tara McLoughlin, who hasn't practiced nursing for a while, the Nurse Refresher course, offered through the Continuing Education and Professional Development program at Adelphi, seemed like a perfect fit.
"It was fantastic," Ms. McLoughlin said. "I was able not only to refresh my knowledge in a field I already know, but gained a sense from professors that I could get even more out of the program."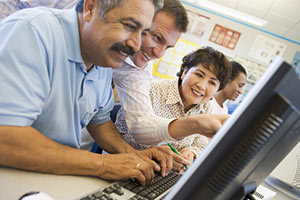 The Continuing Education and Professional Development program started about two years ago on Adelphi's Garden City campus and already offers more than 50 course options for its students. Courses are offered in such fields as humanities and performing arts, education, business, human services, emergency management, nursing and healthcare and personal enrichment.
"We try to offer courses that are either career changing or life changing," said Karen Pappas, the program's director.
Shawn O'Riley, University College dean, said the continuing education program is an integral piece of the College. "University College offers programs for lifelong learners that fit a variety of personal and professional education needs," he said. "In addition to our degree and certificate programs, University College offers a wide array of noncredit and professional development programs through our Office of Continuing Education. These affordable courses are scheduled and formatted to fit the needs of busy, working adults."
According to Ms. Pappas, the program is still growing, and its goal is to have all eight of Adelphi's schools represented in its course offerings. The focus is on incorporating emergent technologies and launching innovative programs to help students who need a career boost in this challenging economy.
"It bolsters your skill set," Ms. Pappas said in regard to the benefits of the program. "It may even prepare you for a career change."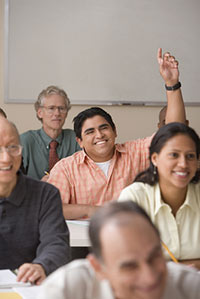 In addition to the courses that can help students transition into new careers, the program also offers courses for personal enrichment. Social Media, Beginning Guitar and Beginning Knitting are but a few. These courses "bring enjoyment to both the student and the instructor," Ms. Pappas said. One of the more successful programs is the nine-month-long Financial Planning Certificate Program, which, when completed, satisfies the education requirement necessary to take the Certified Financial Planner Certification Examination.
"We always get rave reviews for nursing and other courses," Ms. Pappas said in reference to the positive feedback she has received about the program. "Evaluations are always superb." Other popular courses include the Real Estate Salesperson Course, Property Management and Medical Coding and Billing. And Adelphi is one of only a few schools in the region, according to Ms. Pappas, to offer Business Continuity Certification Training, a specialized course that teaches businesspeople how to continue operations after disasters and power outages like Superstorm Sandy.
Future plans for the program are already in the works, including outreach to the towns of Hempstead and Oyster Bay for work training opportunities and more classes focused on the arts and sciences, such as Indian music. The program's goal is "to offer compelling and life-changing courses and to be successful at making a name for ourselves," Ms. Pappas said. "We want continuing education at Adelphi to be the height of excellence."
University College's continuing education program has helped students achieve many personal and professional goals. See which
programs
best suit your interests.
About Adelphi: A modern metropolitan university with a personalized approach to higher learning.
Adelphi University is a highly awarded, nationally ranked, powerfully connected doctoral research university offering exceptional liberal arts and sciences programs and professional training with particular strength in its Core Four—Arts and Humanities, STEM and Social Sciences, the Business and Education Professions, and Health and Wellness. Adelphi is dedicated to transforming students' lives through small classes, hands-on learning and innovative ways to support student success.
Founded in Brooklyn in 1896, Adelphi is Long Island's oldest private coeducational university. Today Adelphi serves nearly 8,000 students at its beautiful main campus in Garden City, New York—just 23 miles from New York City's cultural and internship opportunities—and at dynamic learning hubs in Manhattan, the Hudson Valley and Suffolk County, and online.
More than 100,000 Adelphi graduates have gained the skills to thrive professionally as active, caring citizens, making their mark on the University, their communities and the world.