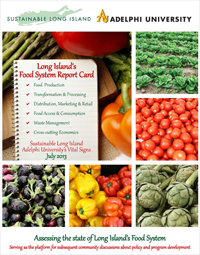 Adelphi University's Dr. Sarah Eichberg, the director of Vital Signs, a project that analyzes the social health of communities on Long Island, co-wrote an opinion piece that appeared in the Monday, August 19, 2013 edition of Newsday.   In the half page article, Dr. Eichberg and co-author Amy Engel, Executive Director of Sustainable Long Island discuss the recent release of the Long Island Food System Report Card, which they jointly produced. The report card assessed the region's food system and the range of processes that keep our communities fed. They cover a variety of topics from the closing of local farms, rising food costs, and the instability of the overall economy; and they suggest solutions so that Long Island can expand its food production.  
"Our region's food system is multidimensional, affecting our environment, economy and social life. It also shapes our culture, identity and sense of community. When it comes to food, we all have a stake," wrote Eichberg and Engel.
» Click here to read the full op-ed article.
---
About Vital Signs
Vital Signs is an ongoing research initiative associated with Adelphi's Center for Health Innovation, by collaborating with groups such as Sustainable Long Island their goal is to bring attention to social issues that affect our region.
About Adelphi: A modern metropolitan university with a personalized approach to higher learning.
Adelphi University is a highly awarded, nationally ranked, powerfully connected doctoral research university offering exceptional liberal arts and sciences programs and professional training with particular strength in its Core Four—Arts and Humanities, STEM and Social Sciences, the Business and Education Professions, and Health and Wellness. Adelphi is dedicated to transforming students' lives through small classes, hands-on learning and innovative ways to support student success.
Founded in Brooklyn in 1896, Adelphi is Long Island's oldest private coeducational university. Today Adelphi serves nearly 8,000 students at its beautiful main campus in Garden City, New York—just 23 miles from New York City's cultural and internship opportunities—and at dynamic learning hubs in Manhattan, the Hudson Valley and Suffolk County, and online.
More than 100,000 Adelphi graduates have gained the skills to thrive professionally as active, caring citizens, making their mark on the University, their communities and the world.