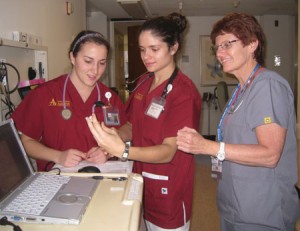 College of Nursing and Public Health's learning for experience includes dedicated education units at partner hospitals, practice in the Nursing Resource Center simulation labs and cultural immersion through study abroad initiatives (e.g., in China and Costa Rica).
Due to graduate in 2014, Samantha Avila learned about nursing in the DEU at North Shore University Hospital, where she was among those assigned to a preceptor or mentor, an R.N. who works with and tracks her students over three semesters. "You really get to know your preceptor; you establish a friendship with that nurse," said Samantha, who transferred here in Spring 2011. "It's really great that we get those experiences. You get to see what you'll actually be doing as a nurse."
At the College of Arts and Sciences, experiential learning includes internships, scientific research and fieldwork opportunities that enable students to apply knowledge in their chosen careers.
Biochemistry major Elizabeth Fey '11, a former transfer student and member of Adelphi's national championship teams in women's lacrosse in 2010 and 2011, conducted research with Department of Chemistry Associate Professor Justyna Widera, Ph.D., connecting biology and athletics. She went on to get a master's degree in forensic science at John Jay College and now is a lab technician at AFTS Labs on Long Island.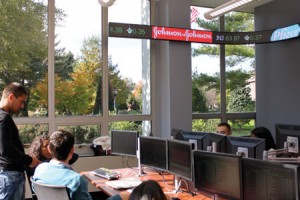 Also in arts and sciences, transfer Rene Wunderlich '12, a communications major who interned at MTV Networks, now is a client service rep at Viacom, while Melanie Derschowitz '10 said her three post-transfer summer internships at museums helped her land a full-time post at the 9/11 Memorial. (See profile, page 8.)
Students at the Ruth S. Ammon School of Education gain experience in their field through student teaching and working with community partners. Transfer Ivana Cirillo '12, a math education major, is now a math teacher for grades 5–12 at W.T. Clarke Middle School.
At the Robert B. Willumstad School of Business, experiential learning immerses students in trading rooms and in the real-world workings of international organizations, here or abroad. Opportunities include the James Riley, Jr. Trading Room, study abroad (e.g., in China and India) and lecture series. 
At the School of Social Work, fieldwork opportunities in a variety of human services settings via various community partnerships and initiatives enable students to learn by doing.