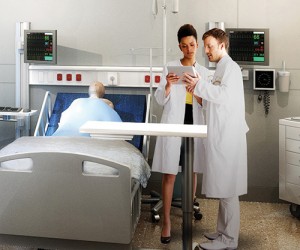 As of Spring 2016, College of Nursing and Public Health students will have a more hands-on education than ever, with 20 new simulation manikins to be utilized in a variety of settings—from a labor and delivery room to an intensive care unit.
The more advanced technology brings with it a need for faculty to have thorough training in blending simulations into the curriculum. Consequently, Patricia Garofalo, named director of faculty support for nursing simulation earlier this year, has begun working closely with faculty to determine what simulations are needed and where. "I find out what faculty members want, what they need and how to improve simulations for all nursing students," she said.
Garofalo is committed to helping all seamlessly blend classroom work with simulations. Those with no experience in sim labs will be introduced to the topic through a series of modules hosted on Moodle, she said. Simulations bridge classroom and clinical experiences, allowing students a safe way to practice skills and even make mistakes without putting an actual patient at risk.
Students gain more critical thinking and clinical reasoning skills from simulations than from more traditional teaching methods, said Maryann Forbes, Ph.D. '99, and Deborah Ambrosio-Mawhirter '81, M.S. '95, Ed.D., professors in the College of Nursing and Public Health, explaining that research they conducted found that simulations enhance students' confidence in their abilities, especially with the support of faculty.
Simulations also make up for any gaps in students' clinical experiences by standardizing the situations students have encountered. A student nurse may spend a week or more working on a cardiology floor yet never see a patient with a heart attack. Simulations make sure that does not happen. "With simulations, we can know that every nursing student has taken care of a stroke patient or a heart attack," Garofalo said.
Six of the new manikins are of the highest fidelity—meaning they can cry, convulse, recognize drugs and more. The simulations are learner driven, which means they will respond to the student nurses' actions and may get better or worse depending upon their decisions.
Garofalo handles the software programming for a simulation, telling the manikin what to do or not to do, based on the student's actions. She bases her programming on feedback from faculty, who recommend certain situations or patient responses.
A key component of using simulations is allowing students to have a detailed debrief and evaluation from instructors and fellow students. In the new Nexus Building simulation rooms, students will have the opportunity to review their simulation via video recording and discuss their actions with their professor and classmates. Faculty workshops on debriefing techniques are planned for Fall 2015.
Adapted from an article published in the College of Nursing and Public Health's Fall 2015
Illuminations
. This piece appeared in the 
Fall 2015 Transfer Students Newsletter.
About Adelphi: A modern metropolitan university with a personalized approach to higher learning.
Adelphi University is a highly awarded, nationally ranked, powerfully connected doctoral research university offering exceptional liberal arts and sciences programs and professional training with particular strength in its Core Four—Arts and Humanities, STEM and Social Sciences, the Business and Education Professions, and Health and Wellness. Adelphi is dedicated to transforming students' lives through small classes, hands-on learning and innovative ways to support student success.
Founded in Brooklyn in 1896, Adelphi is Long Island's oldest private coeducational university. Today Adelphi serves nearly 8,000 students at its beautiful main campus in Garden City, New York—just 23 miles from New York City's cultural and internship opportunities—and at dynamic learning hubs in Manhattan, the Hudson Valley and Suffolk County, and online.
More than 100,000 Adelphi graduates have gained the skills to thrive professionally as active, caring citizens, making their mark on the University, their communities and the world.