"This remarkable new book … reminds us that nothing is more powerful
in a child's development than the love of a parent."
– Bill Clinton, former president of the United States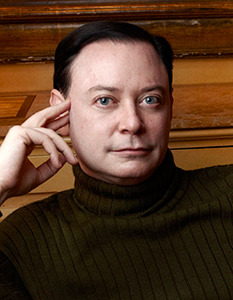 That's just one of the many quotes of high praise about author Andrew Solomon's book Far From the Tree: Parents, Children and the Search for Identity—Solomon will be the guest speaker on Monday, December 2, 2013, 7:00 p.m. at Adelphi University. This free event, open to the University community and the public, will be held in the Thomas Dixon Lovely Ballroom, Ruth S. Harley University located at 1 South Avenue, Garden City. No ticket or reservation is required for the program.
Andrew Solomon is an outspoken activist and philanthropist for many causes in LGBT rights, mental health, education and the arts; he has been a contributing writer for publications such as the New York Times Magazine and The New Yorker having written on various topics including depression, the cultural rebirth of Afghanistan and Libyan politics. In his latest book, Far From the Tree: Parents, Children and the Search for Identity, Solomon explores the perspective of parents who have children that don't grow up to be mirror-images of themselves. Some of the chapters in the book explore the life of parents with children with issues such as autism, are prodigies or transgender, have down syndrome or victims of rape to name a few; some of the themes the author uses include love, struggle, identity and hope.
The book is an examination of the means by which families accommodate children with physical, mental and social disabilities and how these unusual situations can be invested with love. Solomon spent ten years researching the book, interviewing more than 300 families and generating more than 40,000 pages of notes.
In 2001, Andrew Solomon received the National Book Award for The Noonday Demon: An Atlas of Depression. The book was also a finalist for the Pulitzer Prize and was a worldwide bestseller published in more than 20 languages.
There will be an opportunity to buy Mr. Solomon's book and have it signed after his talk. For more information on programs at Adelphi University visit www.adelphi.edu or call the cultural events hotline at 516-877-4555.
About Adelphi: A modern metropolitan university with a personalized approach to higher learning.
Adelphi University is a highly awarded, nationally ranked, powerfully connected doctoral research university offering exceptional liberal arts and sciences programs and professional training with particular strength in its Core Four—Arts and Humanities, STEM and Social Sciences, the Business and Education Professions, and Health and Wellness. Adelphi is dedicated to transforming students' lives through small classes, hands-on learning and innovative ways to support student success.
Founded in Brooklyn in 1896, Adelphi is Long Island's oldest private coeducational university. Today Adelphi serves nearly 8,000 students at its beautiful main campus in Garden City, New York—just 23 miles from New York City's cultural and internship opportunities—and at dynamic learning hubs in Manhattan, the Hudson Valley and Suffolk County, and online.
More than 100,000 Adelphi graduates have gained the skills to thrive professionally as active, caring citizens, making their mark on the University, their communities and the world.