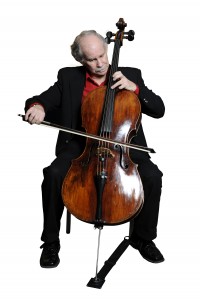 Chemistry professor Dr. Stephen Goldberg indulges his first love.
For many, the word scientist evokes the image of a white coat and goggle-wearing gentleman who spends countless hours inside the lab. Stephen Goldberg, Ph.D., does his best to shatter this image. Yes, he's a scientist—a crystallographer to be exact. But making music was his first love, and he's not the exception. "Lots of scientists are musicians, some extremely good musicians. There is a fair connection between thinking rigorously and the interpretation that goes along with music," he said. "There is a large amount of creativity involved in the sciences."
The Brooklyn native discovered the cello at 10 years old at the suggestion of his mother's friend. As a youngster, Dr. Goldberg played second desk cello at the opening concert of the New York Youth Symphony's first season—alongside a young soloist named Itzhak Perlman. "I played with many young performers who went on to establish themselves as highly respected musicians," Dr. Goldberg revealed.
But he chose to make his mark in the sciences, earning an A.B. with distinction in Chemistry at Cornell University, a Ph.D. in Chemistry at the University of California at Berkeley and a postdoctoral fellowship at the University of Rochester before coming to Adelphi as an assistant professor in 1975.
Since his arrival, Dr. Goldberg has been an outspoken advocate for education and the sciences, both on and off campus. He's been active as a member and an officer in Adelphi's Faculty Senate and the American Association of University Professors (AAUP), as well as a member of the American Chemical Society, the American Association for the Advancement of Science and the New York Academy of Sciences.
"In high school and college, I was a cellist…today, I play a cello," Dr. Goldberg said with a smile. Despite his busy teaching schedule, you can often catch him on stage, performing alongside the students of the Adelphi Orchestra. And you can be sure that the notes from his cello are as intricate and nuanced as the crystals he studies."
About Adelphi: A modern metropolitan university with a personalized approach to higher learning.
Adelphi University is a highly awarded, nationally ranked, powerfully connected doctoral research university offering exceptional liberal arts and sciences programs and professional training with particular strength in its Core Four—Arts and Humanities, STEM and Social Sciences, the Business and Education Professions, and Health and Wellness. Adelphi is dedicated to transforming students' lives through small classes, hands-on learning and innovative ways to support student success.
Founded in Brooklyn in 1896, Adelphi is Long Island's oldest private coeducational university. Today Adelphi serves nearly 8,000 students at its beautiful main campus in Garden City, New York—just 23 miles from New York City's cultural and internship opportunities—and at dynamic learning hubs in Manhattan, the Hudson Valley and Suffolk County, and online.
More than 100,000 Adelphi graduates have gained the skills to thrive professionally as active, caring citizens, making their mark on the University, their communities and the world.