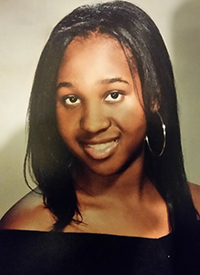 The staff of the Office of Information Technology would like to congratulate Jasmine Holder as the July 2018 IT Student Worker of the Month.
Holder is majoring in nursing and works in Inventory and Asset Management.
Here are some of the comments we received from IT staff members and other student workers who nominated her:
"Jasmine always begins and ends her day with a smile on her face. She always takes the time to greet you and ask about your day. Jasmine is always willing to go the extra distance to ensure that the job is completed. She takes pride in her work from start to finish. She is truly an asset to our team!"
"Jasmine has been working with the Asset Management division for over two years. During this time she has demonstrated her ability to take constructive criticism and grow from it. This summer Jasmine has proven her dedication to Asset Management and the department as a whole. Her motivation has become very contagious and has brought a sense of morale boosting for everyone that works with her. I look forward to another wonderful semester with Jasmine!"
About IT's Employee of the Month Nominations
It is important to demonstrate our appreciation for the contributions of our student workers to their teams, to the Office of Information Technology, and to Adelphi University as a whole. At the end of each month, we will honor one student worker who has demonstrated commitment, leadership, and initiative in their position. The recipient will be presented with a certificate and gift, as well as a featured spot on our IT website.
All IT employees (including student workers) are encouraged to submit nominations for their choice for Student Worker of the Month. Your nominee should display qualities deserving of recognition.
Please submit all nominations through the Student Worker of the Month Nomination Form.
About Adelphi: A modern metropolitan university with a personalized approach to higher learning.
Adelphi University, New York, is a highly awarded, nationally ranked, powerfully connected doctoral research university dedicated to transforming students' lives through small classes with world-class faculty, hands-on learning and innovative ways to support academic and career success. Adelphi offers exceptional liberal arts and sciences programs and professional training, with particular strength in our Core Four—Arts and Humanities, STEM and Social Sciences, the Business and Education Professions, and Health and Wellness.
Recognized as a Best College by U.S. News & World Report, Adelphi is Long Island's oldest private coeducational university. It serves more than 8,100 students at its beautiful main campus in Garden City, New York—just 23 miles from New York City's cultural and internship opportunities—and at dynamic learning hubs in Manhattan, the Hudson Valley and Suffolk County, as well as online.
More than 115,000 Adelphi graduates have gained the skills to thrive professionally as active, engaged citizens, making their mark on the University, their communities and the world.