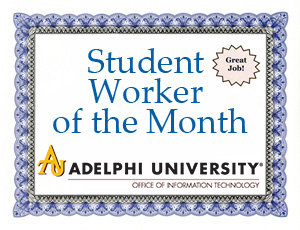 The staff of the Office of Information Technology would like to congratulate
Andrew Olsen
Student Worker of the Month for October 2015
Andy has worked with the Web Communications team since Spring 2015. He is a Computer Science major in the Class of 2017.
Here are some of the comments we received from IT staff members and other student workers who nominated him:
"Andy has been working with the webteam since spring 2015 and in that time he has expanded his work for us from basic web maintenance to intricate WordPress programming. Over the summer he worked with our Web Technologies team to develop a new Custom HTML Block feature for our WordPress sites, which allows us to embed code in flexible content areas on our webpages, making our site design more nimble and customizable than ever. This semester he is in the process of developing a custom set of "social sharing" buttons for the web site, and will be working with the Web Technologies team on a major overhaul of our News and Events site. He has become a crucial resource for our team in implementing regular improvements on our WordPress sites, and we could never complete these projects without his help!"
"Since Andy started working with us in Spring 2015 he has been a great asset to our team. He not only assists us with day-to-day website maintenance but has proven himself to be skilled at web development and researching new technologies to implement. He tackles every project big and small with ease and makes our work go a lot smoother."
"Andy has been a great addition to our group. He has made great strides in working with WordPress – adding customization very fast and efficiently. We can always count on him."
" He is a very good worker, dedicated and concise. He is also very pleasant to work with."
---
About IT's Employee of the Month Nominations
It is important to demonstrate our appreciation for the contributions of our student workers to their teams, to the Office of Information Technology, and to Adelphi University as a whole. At the end of each month, we will honor one student worker who has demonstrated commitment, leadership, and initiative in their position. The recipient will be presented with a certificate and gift, as well as a featured spot on our IT website.
All IT employees (including student workers) are encouraged to submit nominations for their choice for Student Worker of the Month. Your nominee should display qualities deserving of recognition.
Please submit all nominations through the Student Worker of the Month Nomination Form.
About Adelphi: A modern metropolitan university with a personalized approach to higher learning.
Adelphi University is a highly awarded, nationally ranked, powerfully connected doctoral research university offering exceptional liberal arts and sciences programs and professional training with particular strength in its Core Four—Arts and Humanities, STEM and Social Sciences, the Business and Education Professions, and Health and Wellness. Adelphi is dedicated to transforming students' lives through small classes, hands-on learning and innovative ways to support student success.
Founded in Brooklyn in 1896, Adelphi is Long Island's oldest private coeducational university. Today Adelphi serves nearly 8,000 students at its beautiful main campus in Garden City, New York—just 23 miles from New York City's cultural and internship opportunities—and at dynamic learning hubs in Manhattan, the Hudson Valley and Suffolk County, and online.
More than 100,000 Adelphi graduates have gained the skills to thrive professionally as active, caring citizens, making their mark on the University, their communities and the world.