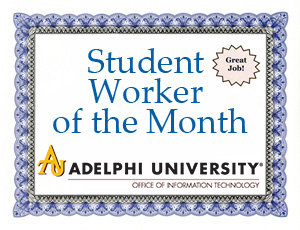 The staff of the Office of Information Technology would like to congratulate
Matthew Rydzewski
Student Worker of the Month for July 2014
Matt is a Mathematics major who has worked for the Office of Information Technology at Adelphi since Fall 2011. He's worked as a Lab Consultant for the Help Desk and for the Network Technicians. He's been involved in campus intramural basketball and volleyball and also enjoys tennis, swimming and video games.
Here are some of the comments we received from IT staff members and other student workers who nominated him: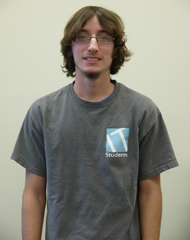 "Matt came to us with little computer knowledge and now he is a reliable tech to send and complete service calls. Matt always says ""please"" and ""thank you"" to our user base and is a pleasure to work with."
"Matthew Rydzewski is fine example of what a student of the month should be. Matt came to us with little or no computer knowledge, but, is now one of our lead student techs who teaches his fellow students. Matt has been known to stay later to try to get the job done. We almost have to make him leave at the end of his shift.  He follows direction, and does not need to be told more than once how to do something.
"Matt, in my opinion and through observation in the past year, improved the most among the students while working with the Net Techs."
"This hard-working student has yet to be recognized. Calling Matt a role-player is a gross understatement. He is always reliable, always on time, never turned down jobs, and with job completion rate over 90% to boot.  He is also the most improved student worker. … now he can handle pretty much any jobs with aplomb."
---
About IT's Employee of the Month Nominations
It is important to demonstrate our appreciation for the contributions of our student workers to their teams, to the Office of Information Technology, and to Adelphi University as a whole. At the end of each month, we will honor one student worker who has demonstrated commitment, leadership, and initiative in their position. The recipient will be presented with a certificate and gift, as well as a featured spot on our IT website.
All IT employees (including student workers) are encouraged to submit nominations for their choice for Student Worker of the Month. Your nominee should display qualities deserving of recognition.
Please submit all nominations through the Student Worker of the Month Nomination Form.
About Adelphi: A modern metropolitan university with a personalized approach to higher learning.
Adelphi University is a highly awarded, nationally ranked, powerfully connected doctoral research university offering exceptional liberal arts and sciences programs and professional training with particular strength in its Core Four—Arts and Humanities, STEM and Social Sciences, the Business and Education Professions, and Health and Wellness. Adelphi is dedicated to transforming students' lives through small classes, hands-on learning and innovative ways to support student success.
Founded in Brooklyn in 1896, Adelphi is Long Island's oldest private coeducational university. Today Adelphi serves nearly 8,000 students at its beautiful main campus in Garden City, New York—just 23 miles from New York City's cultural and internship opportunities—and at dynamic learning hubs in Manhattan, the Hudson Valley and Suffolk County, and online.
More than 100,000 Adelphi graduates have gained the skills to thrive professionally as active, caring citizens, making their mark on the University, their communities and the world.