The new novel by Jacqueline Woodson '16 (Hon.) is receiving acclaim for its bold depiction of a young woman coming of age in the hard-edged Bushwick of the 1970s.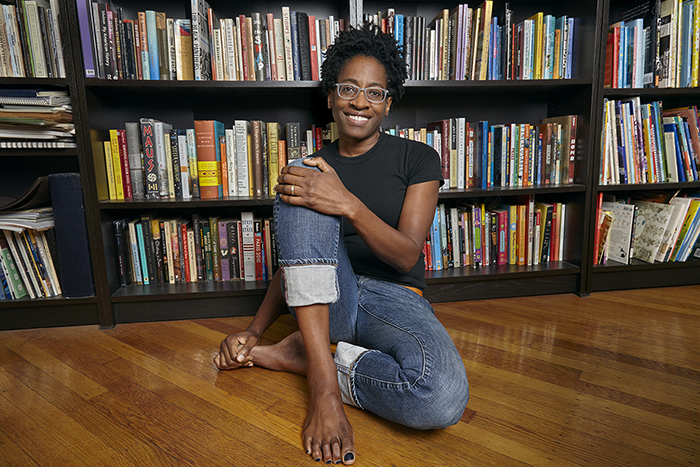 "The question is not what will you do with your one wild and precious life, but what will you change? Because you have that power to create change."
Jacqueline Woodson '16 (Hon.) offered these words at Adelphi University's 2016 Commencement, where she received a Doctor of Letters Honoris Causa.
Woodson is no stranger to change. Born in 1963, she's witnessed dramatic changes in race relations, discussions of sexuality and gender, and the emergence of the HIV/AIDS crisis—just a few of the fundamental topics addressed in the dozens of books she's published. Through her writing, Woodson has also inspired those who are often disparaged or ignored because of the color of their skin. Her works strive to promote diversity and beauty in life, and her latest book—Another Brooklyn—sings that message as loudly as ever. Given that Woodson is primarily a children and young adult writer, Another Brooklyn is the first adult novel she's written in roughly two decades, and it's already receiving rave reviews.
"Another Brooklyn is a short but complex story that arises from simmering grief," Ron Charles wrote in The Washington Post. "It lulls across the pages like a mournful whisper." The novel is written in a unique episodic prose with a cadence that calls upon Woodson's skills as a poet. At face value, the novel is about growth, perseverance and overcoming obstacles, but Woodson has written it in a way that provides many different takeaways and interpretations. It follows the life and struggle of August, a young black girl who moves to the Bushwick section of Brooklyn, New York, in the 1970s, and the family hardships she experiences before and after the move.
"Structured as short ­vignettes, each reading more like prose poetry than traditional narrative, the novel unfolds as memory does, in burning flashes, thick with detail, unmooring ­August from her current reality" Tayari Jones described on The New York Times website.
"Another Brooklyn finds its poetry in what we project onto one another, in what we say to cover up the things we cannot say," Constance Grady posted on the news website Vox. "It's an elegant fever dream of a book, one that will haunt you after you finish it."
Woodson has a long and complex history with Adelphi. She attended in the 1980s—where she was the only black student in the English department—but ultimately left before completing her degree. After multiple awards, a few dozen books and about 30 years, she was finally awarded her honorary doctorate at the University's May 2016 Commencement, where she spoke to the graduating Class of 2016.
She will be giving a lecture titled "Life of a Poet" on October 26, 2016, as part of the Rita Diamandopoulos Lecture in Literature series. Woodson's life and auspicious career reflect Adelphi's push toward social awareness and diversity.
About Adelphi: A modern metropolitan university with a personalized approach to higher learning.
Adelphi University is a highly awarded, nationally ranked, powerfully connected doctoral research university offering exceptional liberal arts and sciences programs and professional training with particular strength in its Core Four—Arts and Humanities, STEM and Social Sciences, the Business and Education Professions, and Health and Wellness. Adelphi is dedicated to transforming students' lives through small classes, hands-on learning and innovative ways to support student success.
Founded in Brooklyn in 1896, Adelphi is Long Island's oldest private coeducational university. Today Adelphi serves nearly 8,000 students at its beautiful main campus in Garden City, New York—just 23 miles from New York City's cultural and internship opportunities—and at dynamic learning hubs in Manhattan, the Hudson Valley and Suffolk County, and online.
More than 100,000 Adelphi graduates have gained the skills to thrive professionally as active, caring citizens, making their mark on the University, their communities and the world.