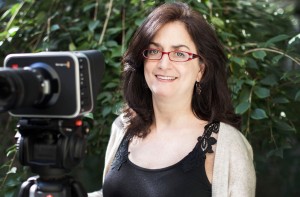 Q: Your screenplay, "The Buried Life," was selected by the Sundance people.  What was the competition like, and what did this experience give to you?
Stein: The Sundance Institute in Utah chose 12 screenplays this year out of about 1,900 submissions. The Lab provides writers with an amazing opportunity to be mentored by experienced screenwriters and to really have the time to delve into the material more deeply. In April of 2013 the script was also selected by the Hamptons International Film Festival for their Screenwriting Lab. Since our main character is an archeologist, we were also chosen by the Alfred P. Sloan Foundation to receive a grant to do more research for the script.
 Q: How long has the script been in the works, and what is it about?
Stein: I have been working on developing the script with my co-writer Averie Storck for about three years. "The Buried Life" is a dramedy about an archeologist in her 30's who is very good at digging up the past, but not so good at dealing with the past trauma in her family.
 Q: You also were part of a panel at Lincoln Center. What was that about?
Stein: Last May, as a part of the 25 year anniversary of the Columbia University film program, my Academy Award nominated short film "One Day Crossing" was screened along with other short films from graduates such as Gregg Mottola ("Superbad"), James Mangold, ("Walk the Line"), Adam Davidson ("Friday Night Lights") and Lisa Cholodenko ("The Kids are Alright").
 Q: Can you tell us more about the day-to-day experience that was part of this remarkable screenwriting laboratory?
Stein: The Sundance Institute's Screenwriting Lab means five days in an absolutely gorgeous and peaceful setting where we had the opportunity to meet with experienced and well-known screenwriters and filmmakers who gave us advice on what to tackle in our scripts.  Having the chance to unplug and just focus on the screenplay and to meet other writers and artists was inspiring, thought provoking and invigorating.  We had to dig deeply into our own stories and be prepared to listen to criticism.  There was laughter and also a lot of tears, but it was the perfect environment to have those kinds of emotions. 
Q: Where do you go from here with the script?
Stein: We have just completed another draft and we are waiting to get feedback from Sundance.  We would like to begin taking the film out to investors with our producers Summer Shelton and Leah Gardiner, but we want to make sure that our script is in really good shape.  I think the script is the most important element because if you don't have a good script you're not going to have a good film.
About Adelphi: A modern metropolitan university with a personalized approach to higher learning.
Adelphi University is a highly awarded, nationally ranked, powerfully connected doctoral research university offering exceptional liberal arts and sciences programs and professional training with particular strength in its Core Four—Arts and Humanities, STEM and Social Sciences, the Business and Education Professions, and Health and Wellness. Adelphi is dedicated to transforming students' lives through small classes, hands-on learning and innovative ways to support student success.
Founded in Brooklyn in 1896, Adelphi is Long Island's oldest private coeducational university. Today Adelphi serves nearly 8,000 students at its beautiful main campus in Garden City, New York—just 23 miles from New York City's cultural and internship opportunities—and at dynamic learning hubs in Manhattan, the Hudson Valley and Suffolk County, and online.
More than 100,000 Adelphi graduates have gained the skills to thrive professionally as active, caring citizens, making their mark on the University, their communities and the world.