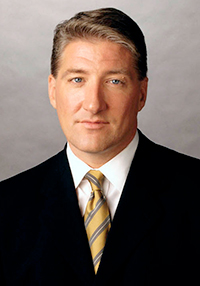 Adelphi University is proud to announce that John King, CNN's chief national correspondent and the former anchor of John King, USA, will deliver the William E. Simon Lecture in American Civilization and Values lecture on Wednesday, February 24, 2016, at 7:00 p.m. in the Thomas Dixon Lovely Ballroom of the Ruth S. Harley University Center. This event is free and open to the public.
King has been reporting on the American political system for more than 20 years, having served as chief political correspondent for the Associated Press before joining CNN in 1997. King was a key part of the network's innovative "America Votes 2008" coverage of the presidential campaign. He traveled the country and broke news about campaign developments, including that then-Senator Barack Obama had chosen Senator Joe Biden as his vice presidential running mate.
In addition King served as the moderator of the first CNN debate of the 2012 Republican presidential primary season, and in 2010 he moderated gubernatorial debates in Massachusetts and Florida.
During his time hosting John King, USA, King aimed to connect what happens in Washington, DC, with the lives of Americans across the country. He anchored the show from locations such as: the Gulf Coast during the oil spill crisis; Tucson, Arizona, after the shootings of US Representative Gabrielle Giffords and other victims; and, from Tunica, Mississippi, during the recent historic flooding in the South.
» Learn more about this event.
About Adelphi: A modern metropolitan university with a personalized approach to higher learning.
Adelphi University is a highly awarded, nationally ranked, powerfully connected doctoral research university offering exceptional liberal arts and sciences programs and professional training with particular strength in its Core Four—Arts and Humanities, STEM and Social Sciences, the Business and Education Professions, and Health and Wellness. Adelphi is dedicated to transforming students' lives through small classes, hands-on learning and innovative ways to support student success.
Founded in Brooklyn in 1896, Adelphi is Long Island's oldest private coeducational university. Today Adelphi serves nearly 8,000 students at its beautiful main campus in Garden City, New York—just 23 miles from New York City's cultural and internship opportunities—and at dynamic learning hubs in Manhattan, the Hudson Valley and Suffolk County, and online.
More than 100,000 Adelphi graduates have gained the skills to thrive professionally as active, caring citizens, making their mark on the University, their communities and the world.