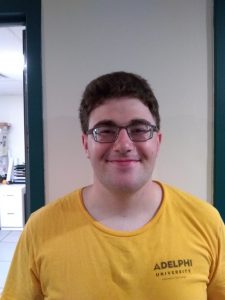 The staff of the Office of Information Technology would like to congratulate John Kulins as the August 2018 IT Student Worker of the Month.
Kulins is a sophomore majoring in computer science and works in Endpoint.
Here are some of the comments we received from IT staff members and other student workers who nominated him:
"John has come a long way as an endpoint assistant. When he first started, he required a lot of hand-holding and guidance. It was almost impossible to let him to go on a job alone; he was always accompanied by a more senior student-worker. Within a semester's time, he had shown a great improvement in terms of his on-the-job aptitude and attitude. He has proved himself to be an industrious young man and displays initiative. He takes criticism well and learns from his mistakes. He is also dependable and rarely late for his shift. He's not the perfect assistant yet, but I surely think he deserves the recognition."
"John has been a great addition to our team from the moment he started. He is proactive and always ready to tackle new tasks, no matter the difficulty. His dedication and work ethic have made him an invaluable member of our group."
"John has learned a lot in his first year with endpoint. He has gained a lot of confidence and can independently go on jobs and is now training up our new students. Over the summer John has worked really hard without complaining, even on the extremely hot summer days and his efforts deserves recognition."
About IT's Employee of the Month Nominations
It is important to demonstrate our appreciation for the contributions of our student workers to their teams, to the Office of Information Technology, and to Adelphi University as a whole. At the end of each month, we will honor one student worker who has demonstrated commitment, leadership, and initiative in their position. The recipient will be presented with a certificate and gift, as well as a featured spot on our IT website.
All IT employees (including student workers) are encouraged to submit nominations for their choice for Student Worker of the Month. Your nominee should display qualities deserving of recognition.
Please submit all nominations through the Student Worker of the Month Nomination Form.
About Adelphi: A modern metropolitan university with a personalized approach to higher learning.
Adelphi University, New York, is a highly awarded, nationally ranked, powerfully connected doctoral research university dedicated to transforming students' lives through small classes with world-class faculty, hands-on learning and innovative ways to support academic and career success. Adelphi offers exceptional liberal arts and sciences programs and professional training, with particular strength in our Core Four—Arts and Humanities, STEM and Social Sciences, the Business and Education Professions, and Health and Wellness.
Recognized as a Best College by U.S. News & World Report, Adelphi is Long Island's oldest private coeducational university. It serves more than 8,100 students at its beautiful main campus in Garden City, New York—just 23 miles from New York City's cultural and internship opportunities—and at dynamic learning hubs in Manhattan, the Hudson Valley and Suffolk County, as well as online.
More than 115,000 Adelphi graduates have gained the skills to thrive professionally as active, engaged citizens, making their mark on the University, their communities and the world.