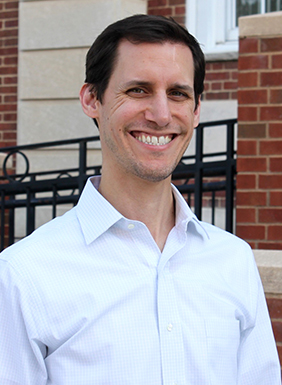 Joshua Altman, Ph.D., the new associate director of Adelphi University's Student Counseling Center, began his career as a professional musician and songwriter. He changed tracks once he realized that he wanted to make a difference in people's lives. He brings a diverse background and a wealth of experience to his role, and he sees some ways to make Adelphi's counseling services even more readily available to students.
"I want to continue to demystify and destigmatize counseling and continue to make it accessible and something people think about," Dr. Altman said.
Among his priorities are to create a University-wide collegiate recovery community, help students manage stress and anxiety and raise awareness of mental health issues.
Dr. Altman said that he plans to work with Carol A. Lucas, Ph.D. '13, director of counseling and support services, to implement workshops and support groups to give students ways to combat stress during busy times of the year, especially midterms and finals.
Dr. Altman spoke about some innovative online platforms that will raise awareness of mental health and provide screenings. He also envisions expanding bystander training initiatives that will enhance the health and safety of those with mental health issues.
He is a graduate of The New School, where he studied film making, and he has a master's degree in clinical social work from New York University and a doctorate in clinical social work from Smith College.
"It's a privilege to work with someone in a very unique way, where they're sharing their struggles with you and their hopes and dreams, and to try to help them achieve those things through overcoming the challenges they're facing," Dr. Altman said. "To do that feels like special work."
About Adelphi: A modern metropolitan university with a personalized approach to higher learning.
Adelphi University is a highly awarded, nationally ranked, powerfully connected doctoral research university offering exceptional liberal arts and sciences programs and professional training with particular strength in its Core Four—Arts and Humanities, STEM and Social Sciences, the Business and Education Professions, and Health and Wellness. Adelphi is dedicated to transforming students' lives through small classes, hands-on learning and innovative ways to support student success.
Founded in Brooklyn in 1896, Adelphi is Long Island's oldest private coeducational university. Today Adelphi serves nearly 8,000 students at its beautiful main campus in Garden City, New York—just 23 miles from New York City's cultural and internship opportunities—and at dynamic learning hubs in Manhattan, the Hudson Valley and Suffolk County, and online.
More than 100,000 Adelphi graduates have gained the skills to thrive professionally as active, caring citizens, making their mark on the University, their communities and the world.