Justin Magaldi '13 is a drummer. He started playing in high school, and though he still plays today, there's another instrument that calls to him on a more consistent basis. One could say he carries the instrument with him wherever he goes, slung across his back in all of its invisible rock-glam glory. He envisions it as a black or silver Axe—to match his black stage garb—and he keeps it well tuned because he never knows when he'll need to jam.
When Magaldi, costumed in a tank top over black meggings (his self-described man-leggings), steps on stage to compete in the U.S. Air Guitar Championships, he leaves his everyday self behind to become Smiley Rod.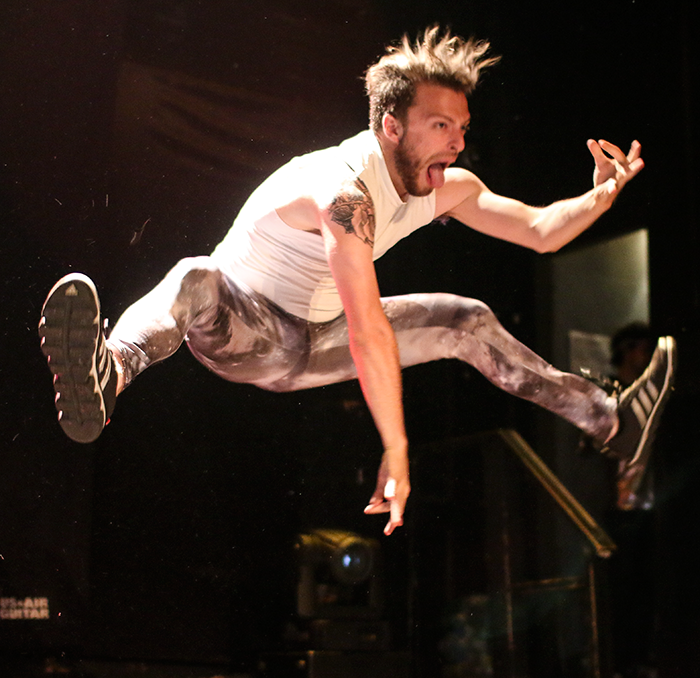 Magaldi has been competing for four years and intends to keep on going. Last year was his best yet, including a first place finish at the qualifier, then third place during the New York semifinal at New York's famed Bowery Ballroom, and finally seventh place overall at the national finals in Kansas City, Missouri, on August 9, 2014. The winner of the national championship is sponsored to compete in the annual world championship in Finland, which is the ultimate goal for any competitor. 
"At the national championship, I wanted to bring a guitar case for my instrument but it's like $20 extra. It just wasn't worth it," Magaldi said.
Four years of air guitar competition with top rankings might seem like veteran territory to most, but Magaldi still considers himself a rookie. "I know guys who've been doing it ten-plus years," he said.
He described a community full of good vibes, to the point that many competitors will mentor others in small ways to ensure the newcomers continue to hone their craft. "The community of people is so much fun," Magaldi said. "It's not really a competition to anyone else. It's just a day to let loose and have a blast."
Still, Magaldi prepares carefully before each performance.
A few weeks before any competition, he'll start picking apart his song and figure out how he wants his routine to go. Then he'll pop his headphones on and practice his performance in the basement or backyard. "I'll [complete my routine] like I'm doing it in front of an audience to make sure I can actually accomplish the jump or to make sure the power slide doesn't hurt too bad," he said with a huge smile. Suddenly, it's evident how he got his nickname.
"My persona is very happy-go-lucky, very fast, lots of jumping around, a big ball of energy," he said.
Signature moves? Maybe not signature, but he has his favorites. He said he'll typically start off with the biggest jump he can manage, somehow work in a throw and catch power slide—meaning he'll throw the Axe and catch it at the end of a slide—while mixing in copious amounts of head banging.
"Mom's pretty proud," he joked.
But there is a more serious side to Magaldi's air guitar devotion, one that complements his work in youth ministry in Long Beach, New York, where he serves as the director of faith formation at St. Mary of the Isle parish.
"If you're holding an air guitar, you can't hold a gun," Magaldi said, quoting an unknown Finnish man who helped start the air guitar championships. "It's about teaching kids to get out of their own heads to just have fun."
This article is from AU VU, Spring 2015 issue. 
About Adelphi: A modern metropolitan university with a personalized approach to higher learning.
Adelphi University is a highly awarded, nationally ranked, powerfully connected doctoral research university offering exceptional liberal arts and sciences programs and professional training with particular strength in its Core Four—Arts and Humanities, STEM and Social Sciences, the Business and Education Professions, and Health and Wellness. Adelphi is dedicated to transforming students' lives through small classes, hands-on learning and innovative ways to support student success.
Founded in Brooklyn in 1896, Adelphi is Long Island's oldest private coeducational university. Today Adelphi serves nearly 8,000 students at its beautiful main campus in Garden City, New York—just 23 miles from New York City's cultural and internship opportunities—and at dynamic learning hubs in Manhattan, the Hudson Valley and Suffolk County, and online.
More than 100,000 Adelphi graduates have gained the skills to thrive professionally as active, caring citizens, making their mark on the University, their communities and the world.